September 13th was the hottest day of the year, with temperatures reaching nearly 35 degrees in southern England. Although great for the daytime activates, most people struggle in the warm night-time temperatures. The body sweats as it struggles to keep cool, causing dehydration and we all generally feel a bit groggy when we wake up.
If you're lucky enough to have a spare air conditioning (AC) unit in the garage (yeah right), not only are you going to be super popular, but you will probably find that you wake up with a very dry throat – just like when you use the AC on holiday.
A growing trend in the UK, air humidifiers can provide a wide range of health and home environmental benefits. Here are just some:
Sleeping in humid air keeps the throat, sinuses and vocal chords moist. Therefore, when you wake up after sleeping next to a humidifier you will find that you will have avoided a dry throat and nose, no nasty 'morning-breath' and you won't growl like a lion.
Reduced risk of infections – bacteria and viruses do not travel as well in moist air as they do in dry air. A humidifier can help you to avoid catching your partner's cold and making you really grumpy!
Dry throats are the most common cause of snoring. Humid air will keep the throat moist and should reduce snoring
As the mist evaporates, the surrounding air cools slightly. Only by a few degrees, but that's all you need on those hot nights.
Dry air saps moisture from your skin which can lead to dry, dull or flaky skin. Humid air helps to prevent these annoying skin problems.
Most humidifiers allow you to add essential oils. You could be drifting off to sleep with the smell of lavender wafting through the air. How relaxing!
Your house plants will thank you too! They hate dry air which sucks all the moisture for their leaves and soil.
What Is A Humidifier?
Ok – so what is a humidifier and how do they work? In simple terms, a humidifier adds water to the air. This is done in a number of ways – steam, evaporation, scrubbing or using ultrasound.
The market-leading humidifiers are made by Swiss company Boneco. Stylish, functional and well made, Boneco are certainly the market leaders. They also make air purifiers, scrubbers and hybrids. One of our staff has the Boneco U200 which we've borrowed for a review.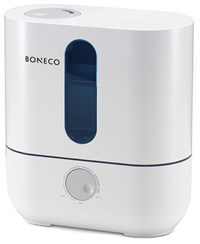 The U200 is the entry-level ultrasonic humidifier. An excellently designed unit, the 3.5l water container will last a week's worth of night-time use. There is also a demineralisation cartridge to prevent limescale build-up and an Ionic Silver Stick to prevent bacteria growth in the unit. Our favourite feature is the fragrance cartridge. The air being drawn through the unit passes over a cotton wool pad filled with your favourite essential oils. We're using lime at the moment – perfect for a fruity day. 
The other great product we've tried out is Boneco's travel version, the U7146. Simply put the small unit in your suitcase, and when you arrive in your hotel room, attach a bottle of water, plug it in (lots of different plug adaptors are included) and away you go.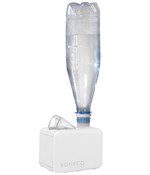 This model is absolutely perfect for hotel rooms which are air conditioned. AC units strip all the water out of the air, which is why you wake up with such a dry mouth on holiday. This becomes even worse when alcohol has a dehydration effect too. The humidifier should put the moisture back into the air, making you feel better when you wake up.
Also great for the office!