With 2024 having the lowest number of bank holidays since 2020, we've worked out how you can make the most of your annual leave next year. Being strategic about how you take time off means you can get that work life balance in check. Keep reading to find out which days to take off, and how taking time off can have health benefits too.
Maximising your annual leave in 2024
If you work full-time, you'll usually have at least 28 days of paid annual leave each year.
Here's how you can turn 25 days of your annual leave into a total of 55 days off (including weekends):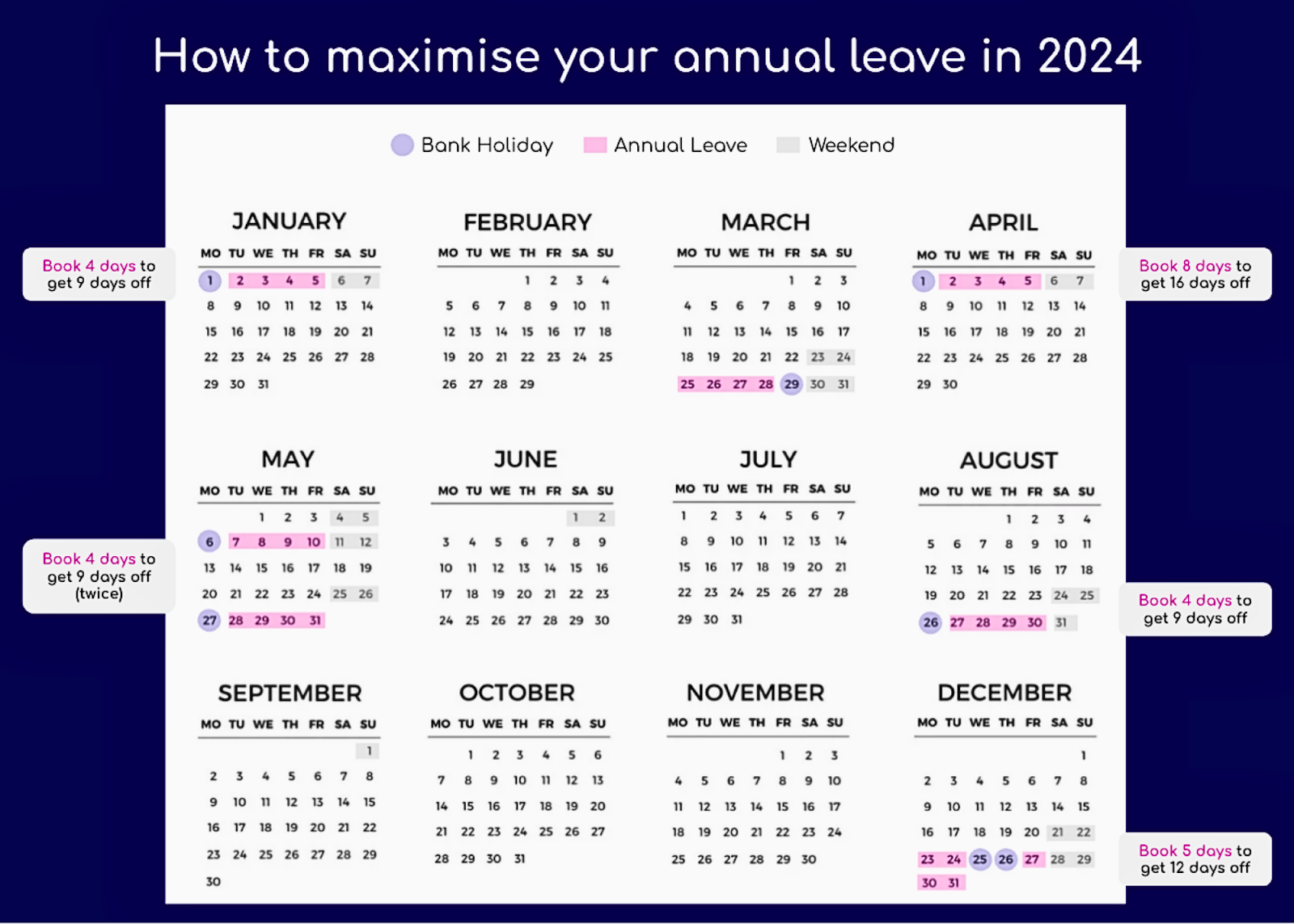 January: Saturday 30 December 2023 to Sunday 7 January 2024
Extend your New Year celebrations by booking four days off at the start of the year for a total of nine days off.
Easter: Saturday 23 March to Sunday 7 April
With Good Friday falling on the 29 March next year, you can enjoy a long Easter break of 16 days by only booking eight days off.
May: Saturday 4 May to Sunday 12 May or Saturday 25 May to Sunday 2 June
Thanks to the two bank holidays in May, there are two ways for you to enjoy nine days off in a row by only using four days of annual leave.
August: Saturday 24 August 2024 to Sunday 1 September
You can book four days off in August to gain nine days off for a summer holiday.
December: Saturday 21 December to Tuesday 1 January 2025
To end the year and enjoy the festive period with family and friends, you can book five days off to gain a total of 12 days off.
The top health benefits of taking time off, from our wellbeing experts
1. Helps to avoid burnout
A work life balance can sometimes be difficult to manage, but taking time off is key to switching off and avoiding burnout.
Holistic Nutritionist Simone Venner suggests, "If you're looking to fully unwind, a longer break would be ideal. But even a single day off can help relieve stress, if it allows for a complete break from work-related responsibilities."
Simone recommends, "Opt for a Monday or a Friday off to create a long weekend and maximise the time you spend away from your desk! Striking a balance between longer holidays and periodic shorter breaks is a great way to recharge and avoid burnout."
2. Reduce stress and improve your sleep quality
According to Wellbeing Coach Lorna Wilkins, the stress-relieving effects of a holiday can have a very positive impact on your overall wellbeing. "One of the key health benefits of going on holiday is that it reduces stress," she says. "Having a break from your daily routine can make you feel more relaxed and therefore improve your mental wellbeing."
"A change of environment and getting away from the pressures of day-to-day life can help you clear your mind and can also help to improve your sleep quality as you'll be feeling more relaxed."

3. Boost creativity and motivation
Lorna says: "Disconnecting helps you to be present in the moment. You'll even find that taking a break can improve your work. Time away from your usual environment can boost creativity, so when you get back to work you feel more motivated and inspired."
4. Combat seasonal affective disorder
A change in scenery can give your mind a world of benefits, but the winter months can be a tough time of year. Lorna comments on chasing the winter sun, "By going away to sunny and warm climates during the winter, it can boost your levels of vitamin D. This can be important for bone health, immunity and mood regulation. And if you have seasonal affective disorder (SAD), this can make a huge difference. Sunlight can help with symptoms of depression that are associated with the dark winter months."
If you're planning to maximise your annual leave in 2024, you could transform 25 days into 55. For those heading off on a winter sun holiday, don't forget to pack your travel insurance so nothing gets in the way of relaxing on your time off.