With thousands of ski resorts scattered across the world, the choice of where to spend your winter holiday can be a daunting one. Our latest research into the world's finest ski destinations is here to help.
To find out the best ski resorts around the world, we looked at 30 popular locations based on factors like average snowfall, visitor reviews, number of ski runs, and average costs. We've even broken down our Global Ski Resort Index into categories. Whether you're a snow seeker on a budget or a beginner to the world of winter sports, we'll help you find the best mountain destination to meet your needs.
We've also shared some top tips for taking out winter sports travel insurance, to make sure you're covered for your next snowy getaway.
The top 10 ski resorts in the world
From huge bustling resorts to charming Alpine villages, our list of the world's top ski resorts offers something for everyone.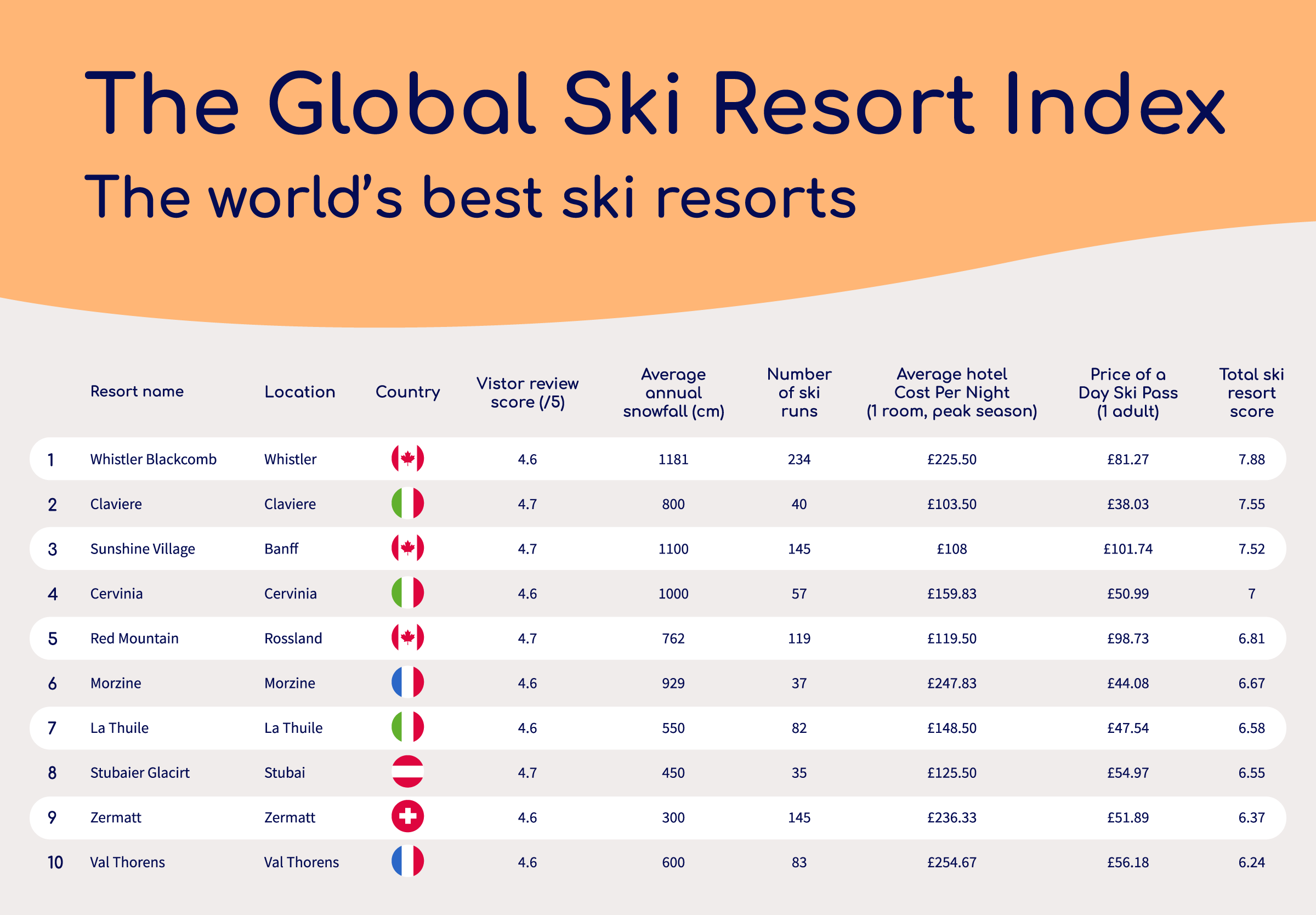 1. Whistler Blackcomb Ski Resort, Canada
Whistler Blackcomb in Canada is crowned the number one ski resort in the world, and it's not hard to see why. With a staggering annual average snowfall of 1,181 centimetres (that's nearly 40 feet), visitors should be treated to a white, powdery paradise every time they step onto the slopes.
As well as lots of snow, this Canadian resort — which is the largest in North America — also offers an impressive 234 ski runs. This is more than any other resort we looked at, and means skiers of all levels will find something to enjoy here.
In the peak season, a hotel room costs £225.50 per night on average, and an adult's day ski pass comes to £81.27. For anyone looking for an unparalleled skiing experience, this investment is well worth it.
2. Claviere Ski Resort, Italy
Claviere Ski Resort in Italy claims the second spot in our ranking, thanks to its affordability and impressive visitor review score of 4.7 out of 5. During the peak season, visitors can book a hotel room for a budget-friendly average of £103.50 per night, and an adult's day ski pass won't break the bank at just £38.03.
On top of affordability, Claviere also offers a more relaxed and peaceful experience. Nestled in a small and traditional village, it's a refreshing escape from the hustle and bustle of larger, more crowded ski destinations.
It's a fairly small resort with just 40 ski runs available, but the quiet slopes mean you won't be waiting in long lift lines or weaving your way down crowded pistes.
3. Sunshine Village Ski Resort, Canada
Located just a short distance from Banff, Sunshine Village is the perfect place to experience the best of winter in the Canadian Rockies. It sees an average annual snowfall of 1,100 centimetres (36 feet), across 3,300 acres of terrain on three majestic mountains. And with 145 ski runs to explore, Sunshine Village caters to all levels of experience and preferences.
A hotel stay here averages £108 per night, while an adult day ski pass comes at a price of £101.74. If you value a rich skiing experience paired with breathtaking mountain scenery, these costs are worth the money.
The top 5 ski resorts for families
Looking for the perfect snow-filled destination for your next family holiday? We've revealed the top five ski resorts for families, based on things like the amount of beginner and intermediate runs, number of family-friendly hotels and average cost of children's ski lessons.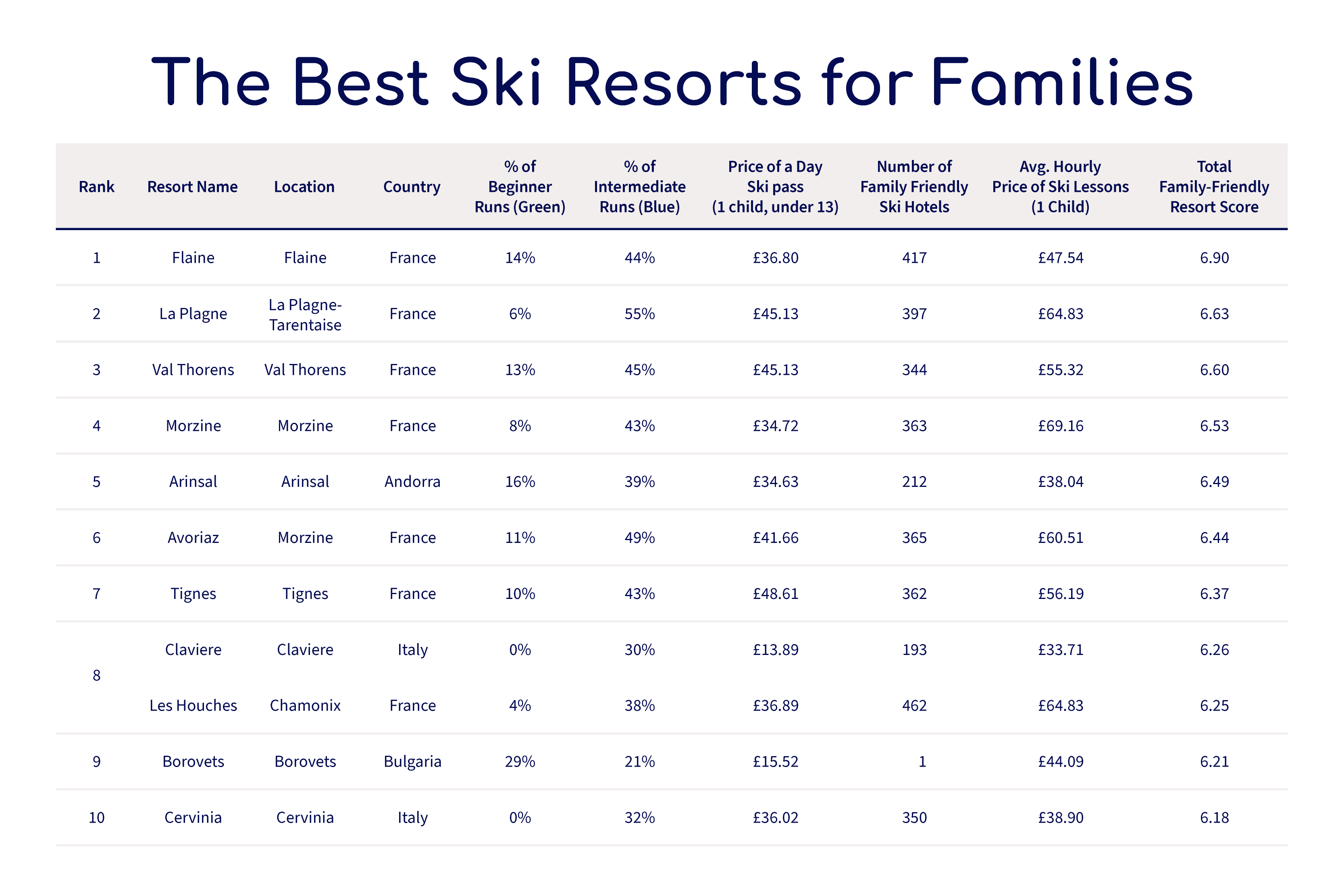 Four of the best ski resorts for families are located in France: Flaine, La Plagne, Val Thorens and Morzine.
Flaine Ski Resort ranks at the top of the list for families, offering a huge range of 417 family-friendly ski hotels to choose from. Flaine has the perfect blend of gentle learning slopes (14% green) and slightly more challenging runs (44% blue), making it a great choice for progressing skiers.
A child's ski pass is just £36.80, with ski lessons available at an average cost of £47.54 per hour. This means kids have the opportunity to learn and grow on the slopes while parents hit the trails themselves.
La Plagne Ski Resort comes in second, with 397 family-friendly hotels available and 55% of runs classed as intermediate. This is followed by Val Thorens and Morzine in France, and Arinsal Ski Resort in Andorra.
Whichever resort you choose for your next family skiing trip, don't forget to compare family travel insurance deals to find the best cover for you and your loved ones. You should also add winter sports cover to your insurance, as activities like skiing aren't usually covered by standard travel insurance.
The top 5 ski resorts for beginners
If you're new to skiing, it's important to choose a ski resort that's beginner-friendly — you don't want to end up hurtling down a black run on your very first day on the slopes. This means finding a resort with plenty of beginner runs, as well as affordable ski lessons. Whether you're a complete beginner or you're just looking to brush up on your skills, these resorts are the perfect place to start.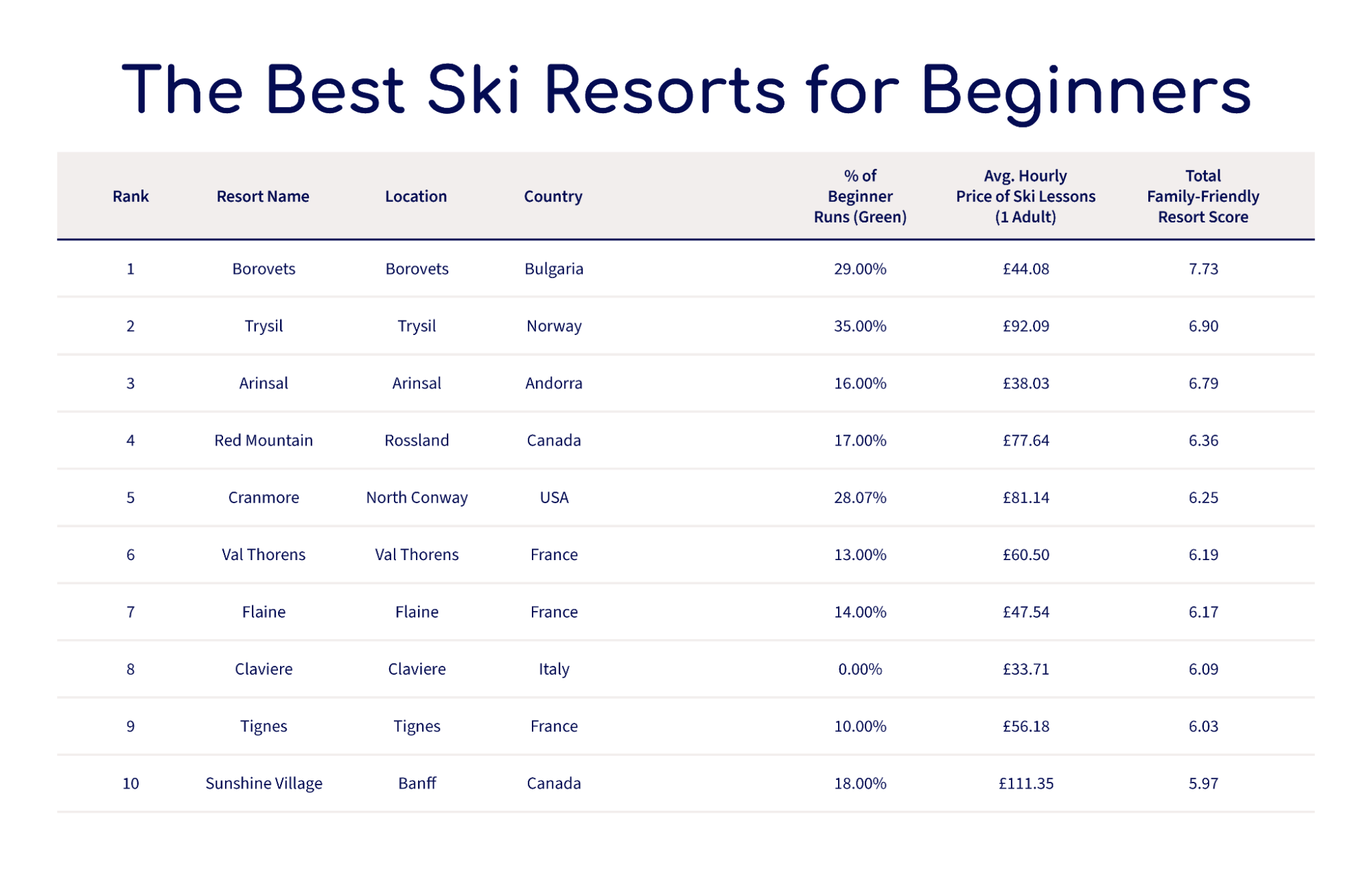 With a good balance of beginner runs and affordable lessons, Borovets in Bulgaria is the best ski resort for new and less experienced skiers. Just under a third (29%) of its pistes are green beginner slopes, and the average cost of an adult ski lesson is £44.08 per hour.
Trysil in Norway comes in second place, with the highest proportion of beginner runs on the list (35%). Arinsal in Andorra places third, followed by Red Mountain in Canada and Cranmore in the USA.
The top 5 ski resorts for experienced skiers
Prepare to push your skills to the limit with our ranking of the ultimate ski resorts for experienced skiers. We've looked at things like the number of advanced and expert runs to help you find the perfect destination to test your abilities.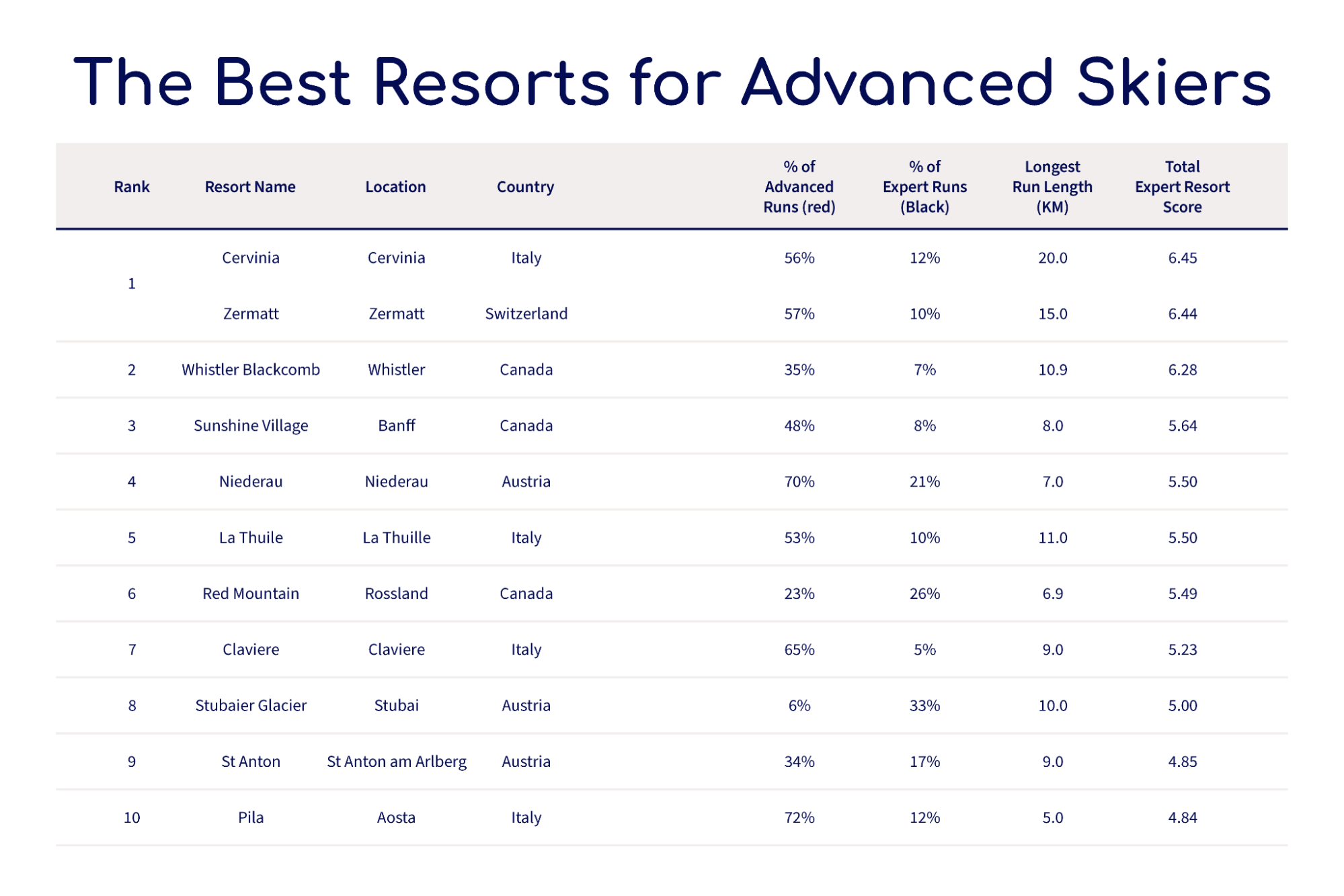 Cervinia in Italy and Zermatt in Switzerland rank as the joint best resorts for experienced skiers. Both resorts offer challenging and diverse terrain, including plenty of advanced and expert runs.
With over half (56%) of runs graded red and 12% graded black, Cervinia has something to offer even the most advanced skiers. The resort's terrain is also very varied, with everything from wide open slopes to narrow, winding trails. And, of course, no visit to Cervinia would be complete without tackling the resort's 20km run.
Meanwhile, Zermatt offers 57% red slopes and 10% black, as well as a 15km run to tackle.
The top 5 ski resorts for non-skiers
Even if you don't ski, there's no reason to miss out on all the fun of a winter holiday. There are plenty of mountain resorts that offer activities for non-skiers, from scenic hikes to spa treatments and fine dining.
We've revealed the top five ski resorts for non-skiers, based on metrics like the number of hotels with a spa, number of hikes, and number of restaurants.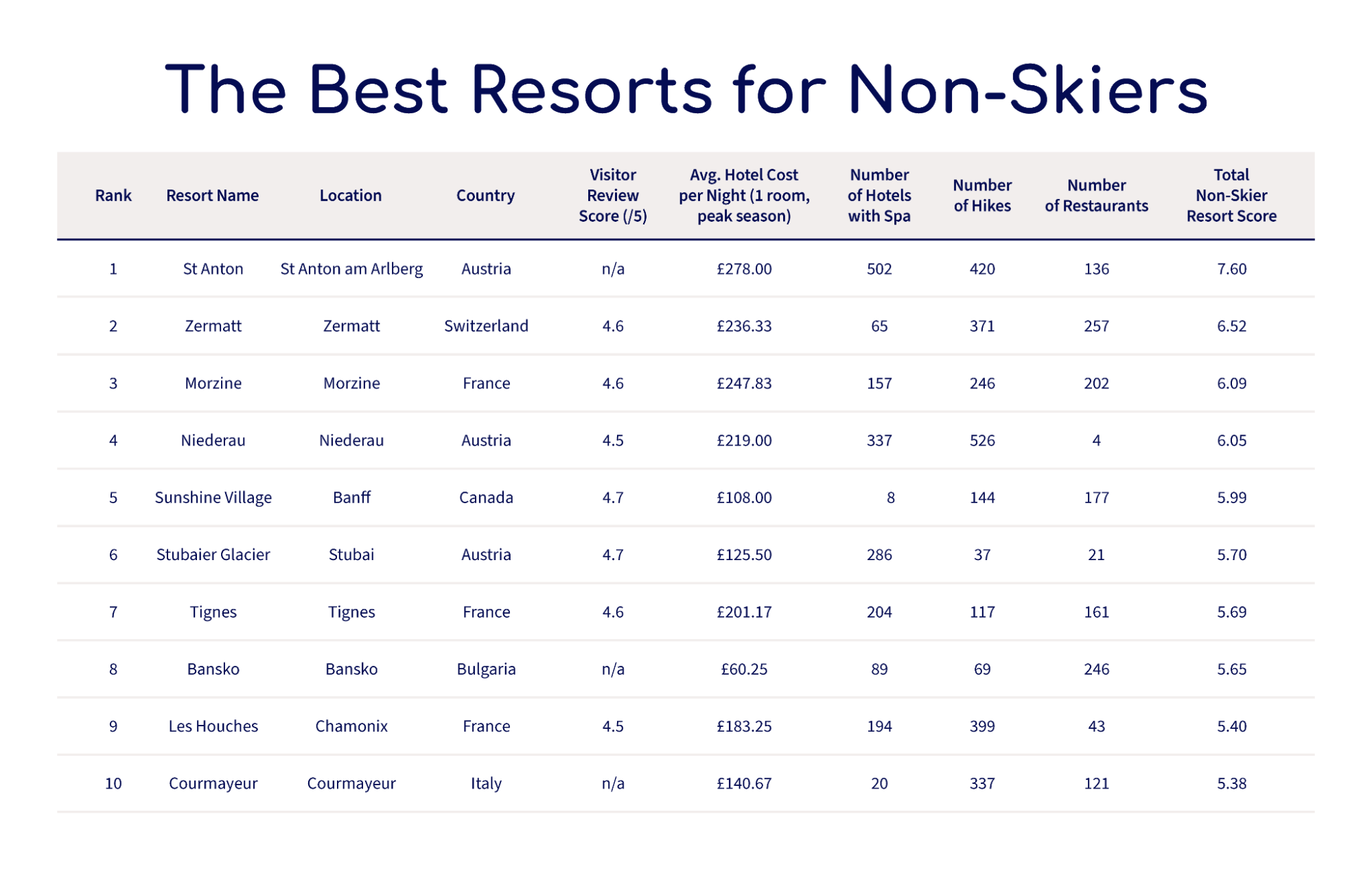 Our research shows Austria's St. Anton resort is the best for non-skiers who still want to enjoy the benefits of a winter getaway in the mountains. With the highest number of hotels with a spa (502), plenty of hikes to enjoy (420), and a good variety of restaurants (136), there's something for everyone in St. Anton.
On top of that, St. Anton also offers a variety of other things to keep non-skiers entertained, including ice skating and tobogganing. A winter sports add-on to your travel insurance could cover you for these activities.
Zermatt in Switzerland ranks in second place, offering plenty of spas (65) and hikes (371), as well as nearly double the number of restaurants (257). Morzine resort in France follows in third, with Niederau, Austria and Sunshine Village, Canada rounding out the top five.
The most affordable ski resorts
As fun as skiing holidays can be, costs can add up quickly when you think about things like the price of daily ski passes and lessons. To help you plan your perfect getaway without going over budget, we've revealed the most affordable ski resorts around the world.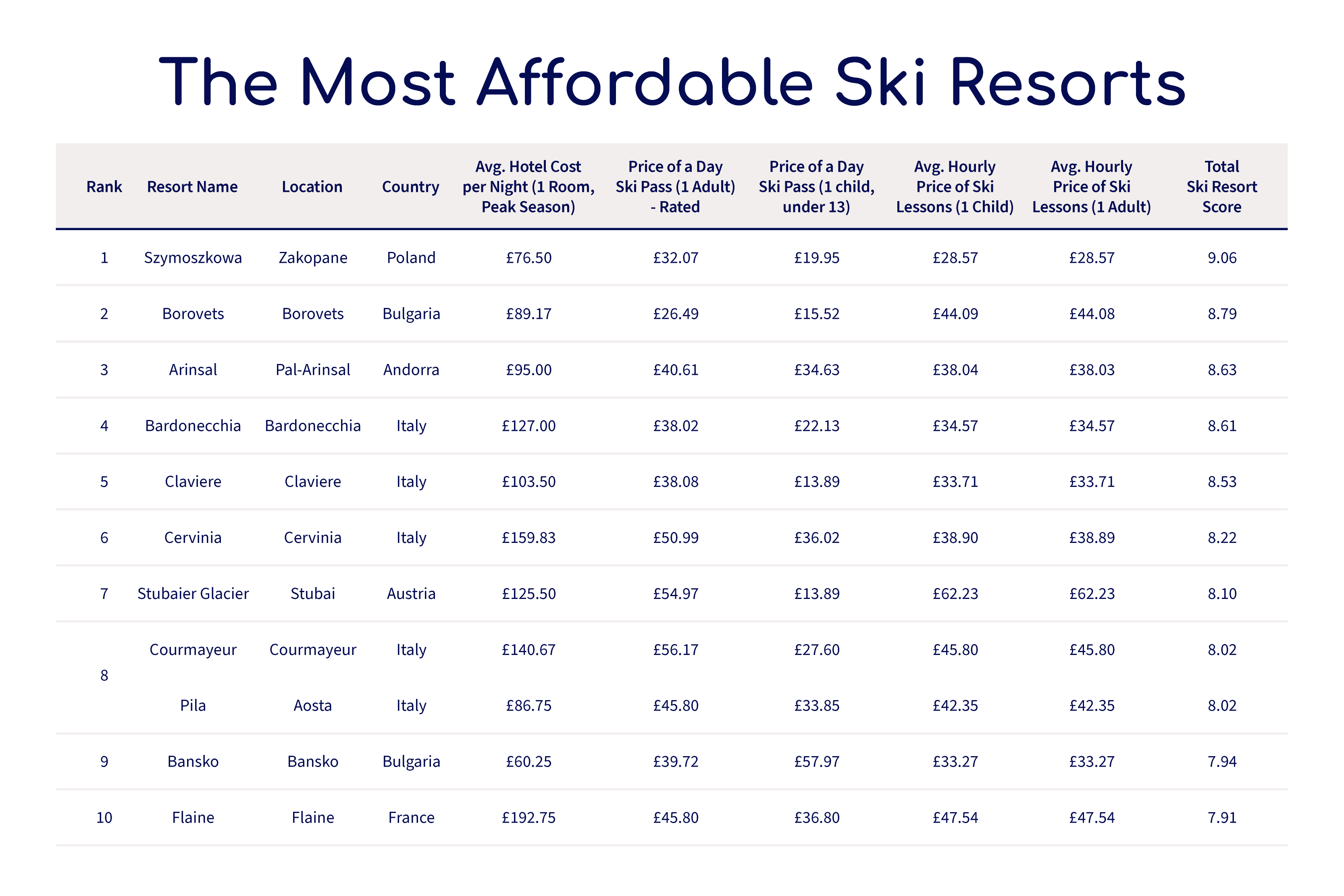 The most budget-friendly resort on our list is Szymoszkowa in Poland. Hotel rooms here cost just £76.50 per night on average, and ski passes come in at a reasonable £32.17 per day for adults and £19.95 for children. Szymoszkowa also offers the cheapest ski lessons on the list, at an average cost of only £28.57 per hour for both adults and children.
In second place is Borovets in Bulgaria, where ski lessons are slightly more expensive (£44.09 per hour on average), but day ski passes are a cheaper £26.76 for adults and £15.52 for children.
This is followed by Arinsal, Andorra; Bardonecchia, Italy; and Claviere, Italy.
Tips for taking out winter sports insurance
If you're planning a skiing trip — or one that involves any other kind of winter sport or activity — you'll need to add winter sports insurance to your travel insurance policy.
There's lots that can happen out on the slopes, so it's important you have the right level of cover to protect you from anything unexpected. We've put together some top tips to make sure you choose the right winter sports cover for your trip.
1. Check which activities are covered
A winter sports add-on usually covers you for popular sports like on-piste skiing and snowboarding, as well as other activities such as:
Outdoor Ice-skating
Glacier skiing
Snowshoeing
Guided cross-country skiing
Tobogganing
Sleigh pulled by reindeer (with an organised, experienced driver)
It's important to make sure that the policy you choose specifically covers all of the activities you intend to take part in while on holiday.
2. Know what your cover includes
It's also important to know exactly what is included in the winter sports policy you choose. Cover usually includes:
Medical emergencies, e.g. accidents on the slope
Lost, damaged or stolen equipment (personal or hired)
Piste closures
Transportation and accommodation in the event of an avalanche or landslide
3. Think about the cost
Winter sports insurance costs vary depending on things like your age, destination, trip length, and pre-existing medical conditions.
Age: As you get older, you may become more likely to need medical help on holiday, which increases the cost of insurance
Destination: Insurance is more expensive for trips to countries with more expensive healthcare systems. It's also more expensive the further away from home you travel, as it would cost more to fly you back if needed
Trip length: Going on a long trip (e.g. three weeks or more) means you'll have more chance of needing medical help, so insurance may cost more
Pre-existing medical conditions: If you have any pre-existing medical conditions this may increase the cost of insurance, as you're more likely to need medical help while abroad
Make sure to let us know all relevant information about you and your trip, so you can find the right cover for your needs.
How to stay safe on a ski holiday
Although the right winter sports travel insurance will cover you for medical emergencies, it's still important to stay safe on the slopes. To help protect you from accidents and emergencies, we've pulled together some safety tips for your next winter getaway. 
Know your limits
Always ski within your skill level and don't attempt slopes or terrains that are beyond your expertise. Pushing yourself too hard can lead to accidents and injuries. You should also make sure to warm up with some easier runs before tackling more challenging routes.
Wear the right equipment
Make sure to invest in quality ski gear, including a helmet and goggles. Helmets can greatly reduce the risk of head injuries, and there are some parts of the world (such as Nova Scotia, Canada) where you're legally required to wear one.
Goggles protect your eyes from harsh mountain elements and help improve visibility, especially during snowy or windy conditions.
Stay hydrated and protected from the sun
High altitudes and cold temperatures can lead to dehydration, so make sure to drink plenty of water to stay properly hydrated. You should also apply sun cream with a high SPF to protect your skin from the strong mountain sun, and don't forget to wear lip balm with sunblock to prevent chapped lips.
Follow the rules of the mountain
Always follow the rules and guidelines of the ski resort you're visiting, as these are in place to keep everyone safe. Typical rules include respecting right of way on the slopes, being aware of other skiers and snowboarders around you, and stopping in designated areas to keep trails clear.
Be avalanche aware
If you're skiing in an area prone to avalanches, take an avalanche safety course before your trip. Learn to spot the danger signs, carry essential safety equipment like a beacon, shovel, and probe, and ski with a group if possible. Always check the avalanche forecast for your location and follow any closures or warnings.
Methodology
We collected a list of over 1,800 ski resorts worldwide using listicle articles and blogs. We then looked at the Google search volumes in the UK to find the top 35 most in demand resorts. Using this list, we created the Global Ski Resort Index ranking each location across 20 metrics to reveal the world's best ski resorts for different types of ski holidays.
General metrics included:
Visitor review score (out of 5)
Average annual snowfall (cm)
Number of ski runs
Average cost of a hotel room per night in peak season
Price of a day ski pass (1 adult)
The best ski resorts for families
% of beginner runs/tracks (Green)
% of intermediate runs/tracks (Blue)
Price of a day ski pass (1 child)
Number of family friendly ski accommodation
Hourly price of ski lessons (1 child, under 13)
The best ski resorts for beginners
% of beginner runs/tracks (Green)
Hourly price of ski lessons (1 adult 16+)
The best ski resorts for advanced skiers
% of advanced runs/tracks (red)
% of expert runs/tracks (black)
Longest run length (KM)
The best ski resorts for non-skiers
Visitor review score (out of 5)
Average hotel cost per night (1 room, peak season)
Number of hotels with spa
Number of hikes (within 3 miles away from the resort)
Number of restaurants
The most affordable ski resorts
Average hotel cost per night (1 room, peak season)
Price of a day ski pass (1 adult)
Price of a day ski pass (1 child, under 13)
Av. hourly price of ski lessons (1 child)
Av. hourly price of ski lessons (1 adult)
* Currency converted to GBP as of 16 October 2023.