A marriage proposal is one of the most important milestones in your relationship. Some make the occasion special with big gestures, while others choose to surprise their partner on holiday. With so many different romantic locations to choose from, which are the best suited to you and your love story?
To find out, we looked at proposal destinations around the world. This included comparing things like couple-based activities, romantic hotels, food and drink, and the average expenses for each visit. Using TikTok data, our study also uncovers the most popular places, attractions, and landmarks for popping the question.
We also spoke to two couples who have recently got engaged abroad. From researching the perfect beach, to getting your ring and travel insurance sorted, they've shared top tips for planning your holiday proposal. 
The 20 most romantic destinations for marriage proposals
Whether you're planning to get down on one knee in a candlelit restaurant, or popping the question on top of a mountain, these are the top 20 most romantic destinations to propose.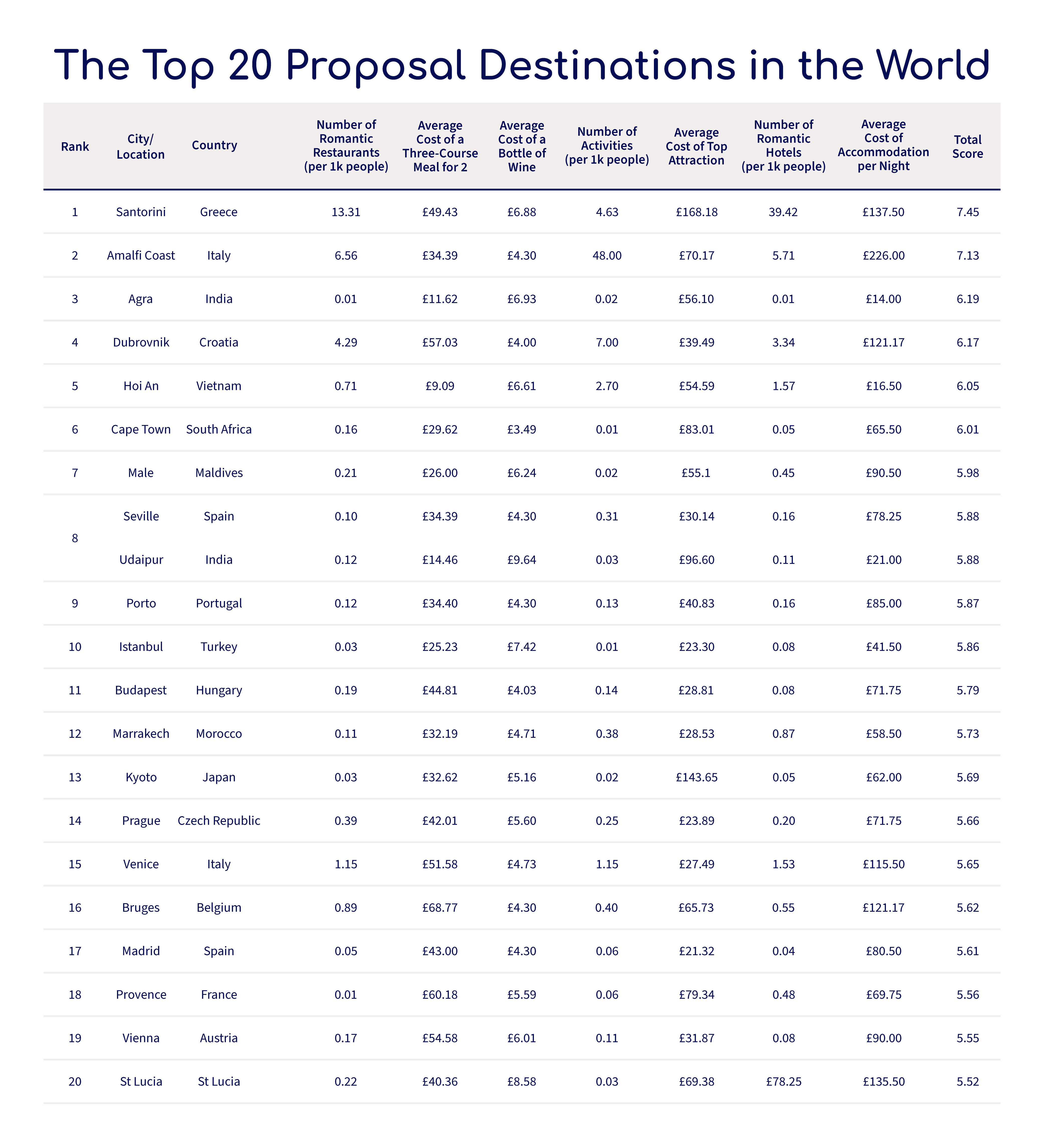 1. Santorini, Greece
Santorini has been crowned the most romantic destination for proposals. With the highest number of romantic restaurants per 1,000 people (13), you'll have the chance to enjoy plenty of candlelit dinners as you watch the sun go down. If the traditional Greek dinners haven't won you over, Santorini also has the highest number of romantic hotels per 1,000 people (39),  although one-night's stay will set visitors back an average of £137.50 per night. 
Santorini's iconic white-washed buildings, blue-dome churches and breathtaking views of the Aegean Sea should give you all the inspiration you need to find the perfect proposal location.  
2. Amalfi Coast, Italy
The Amalfi coast has come in as the second-most romantic destination for marriage proposals, with the highest number of activities (48). With the top attractions costing an average of £70.17, you can set out on a private boat tour of the Capri coastline, go hiking along scenic trails and even explore the ancient ruins of Pompeii. If you choose to propose after one of these activities, make sure to celebrate with some wine in one of the local restaurants . A bottle costs an average of just £4.30. 
Once you've popped the question, you can even celebrate with a three-course meal at an average of just £34.39 for two.
3. Agra, India 
Agra follows in third and it's no surprise when the city holds one of the most love-inspired buildings in the world. Emperor Shah Jahan built the Taj Mahal in memory of his wife, Mumtaz Mahal. That's why the UNESCO World Heritage site is one of the most iconic symbols of love. 
Although there are only a few romantic restaurants (20) and hotels (22) for every 1,000 people in Agra, it's the ideal destination for those who wish to put more of their budget towards the proposal or ring itself. On average, hotel costs in the city are the cheapest at just £14.00, and a three-course meal could set you back just £11.62. The Taj Mahal's gardens will give you some of the most charming backdrops for proposals, with its symmetrical pathways and calming pools.
The five most affordable romantic destinations for marriage proposals
These proposal destinations have their own unique quality and charm. While they could seem perfect for your love story's milestone, you'll want to make sure that they also work with your budget. With that in mind, we've looked at each destination's prices to reveal the most affordable during your stay.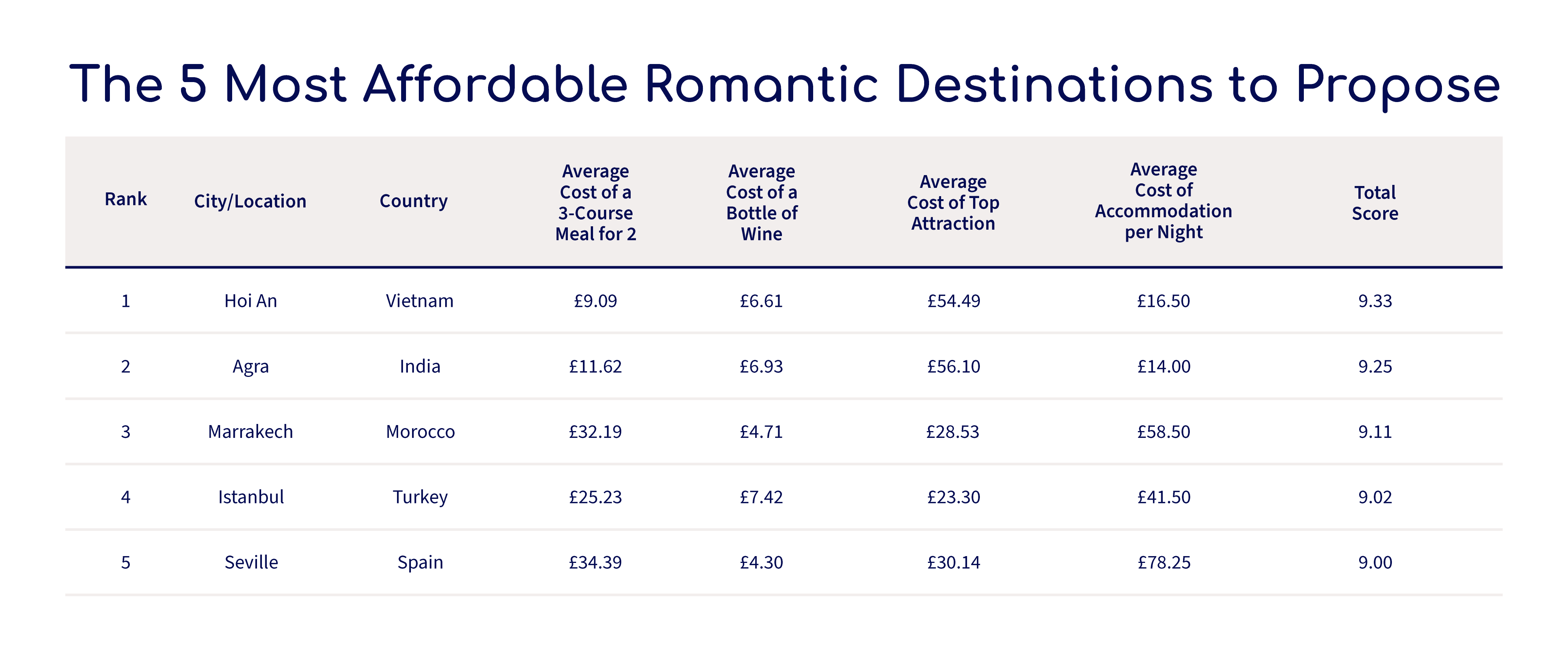 1. Hội An, Vietnam
The study revealed Hội An to be the most affordable romantic destination. Couples will find the lowest average cost for a three-course meal in the Vietnamese city, at an incredible £9.09. The average cost of accommodation is also low, at £16.50 per night. 
The streets of Hội An are lit with lanterns every evening, and whether you're wandering the ancient streets or floating on the canals, this town offers many unique settings for a proposal. There are plenty of activities, such as spa treatments and lantern-making classes, to help keep your partner unaware of the holiday's true purpose. With the top attractions averaging £54.59, you could even propose on the waters of Hạ Long Bay, surrounded by limestone islands and rainforests. 
2. Agra, India
Agra tops the charts once again, with the study revealing the Indian city as the second-most affordable romantic destination, thanks to its cheap accommodation and meals out. For a truly unique experience, be sure to plan ahead so you can find a hotel with views of the Taj Mahal. 
You'll also have lots to explore on your holiday, with the top attractions averaging £56.10. This could include visits to the Agra Fort and Fatehpur Sikri, where you'll capture large bulbous domes, massive halls and large vaulted gateways. Plus, for those looking to enjoy a glass of wine or two with your partner,  a bottle of wine in the city will set you back an average of just £6.93. 
3. Marrakech, Morocco
Whether you're wandering through the High Atlas Mountains, or riding across the sands of the Desert Agafay on camel-back, Marrakech offers some of the lowest-costing attractions, averaging £28.53. The city also offers affordable accommodation, at an average cost of £58.50 per night. 
You'll find plenty of romantic spots in Marrakech too, from the Bahia Palace and Majorelle Garden, to the tangled streets and exotic markets. While you're there, why not also treat your partner to some of Morocco's most renowned culinary dishes, before watering it all down with a bottle of wine (£4.71 average cost).
The most popular proposal destinations on social media
With so many idyllic and affordable proposal destinations, which ones do people choose to get engaged in the most? To find out, we've turned to TikTok to uncover the proposal destinations, attractions and landmarks with the most hashtag views.
The world's 10 most popular proposal destinations on TikTok
Paris - 78,800,000 views
Lake Como - 13,896,200 views
Napa Valley - 11,300,000 views
London - 10,445,800 views
New York - 6,951,700 views
Cancun - 6,500,900 views
Maldives - 4,900,000 views
San Francisco - 4,615,100 views
Santorini - 3,452,000 views
Bali - 2,800,000 views
The world's popular proposal destinations are mostly in Europe and the Americas. It comes as no surprise to see the city of love taking the lead. Being home to many iconic and romantic spots, Paris has 78.8 million views for TikTok posts under the hashtags #Parisengagement and #Parisproposal. 
Lake Como is the runner-up, with the impressive Italian Lake earning 13.9 million  hashtag views on the platform. Following in third is California's Napa Valley. Famed for its hillside vineyards, Napa Valley has collected a total of 11.3 million hashtag views on TikTok.
The UK's 10 most popular proposal destinations on TikTok
London - 10,445,800 views
Cornwall - 320,100 views
Edinburgh - 33,900 views
Lake District - 2,163 views
Loch Lomond - 2,034 views
Bath - 1,272 views
Brighton - 1,189 views
Cambridge - 1,154 views
Glasgow - 920 views
Oxford - 437 views
While going on holiday can be incredibly romantic, the UK has plenty of romantic spots that are perfect for getting down on one knee. London has come out as the UK's most popular proposal destination, with 10.4 million TikTok views for posts featuring #Londonengagement and #Londonproposal. 
Second is Cornwall, with 320,100 hashtag views on the platform. Edinburgh comes in third with a total of 33,900 hashtag views for its proposal posts.
The 15 most popular landmarks where people propose
Central Park - 24,000,000 views
Trevi Fountain - 16,101,034 views
Disneyland - 7,100,000 views
Walt Disney World - 4,656,900 views
Eiffel Tower - 1,538,500 views
Tower Bridge - 739,400 views
Burj Khalifa - 37,400 views
Brooklyn Bridge - 33,300 views
Machu Picchu - 30,100 views
Grand Canyon - 26,219 views
Niagara Falls - 23,061 views
Times Square - 7,506 views
Lincoln Memorial - 5,496 views
Universal Studios - 3,312 views
Grand Central - 1,539 views
Landmarks are a popular choice for engagement spots, and our study has looked into which of the world's attractions are most favoured for marriage proposals. New York's Central Park is crowned the most popular, boasting the highest number of hashtag views on TikTok (24 million). Rome's Trevi Fountain is also very popular, with 16.1 million hashtag views on the platform. 
Home of the iconic Cinderella's Castle, Disneyland is in third place, with 7.1 million hashtag views for its engagement and proposal posts. Another Disney resort follows in fourth place, with Disney World collecting a total of 4.6 million TikTok views. Rounding out the top five is the Eiffel Tower, with 1.5 million hashtag views.
Top tips for the perfect proposal 
To find out more about destination proposals, couples Shannon and Jordan, and CIément and Shanna have shared their experiences and advice for couples planning their proposal. 
1. Just do it
Shannon and Jordan got engaged last July, with Jordan popping the question on a beach in Mallorca. On why they chose to get engaged abroad Shannon said, "It was about the environment for us, we were both happy and smiling all holiday, and Jordan thought it was the perfect time and setting."
She continues, "For any couples thinking about getting engaged abroad, just do it. It doesn't have to be an expensive all-inclusive holiday. It was so nice to just be with each other, and we loved every minute of it."
2. Plan the proposal
For Clément and Shanna, the in-depth planning is what made their Bali engagement so special. On the advice they would give to other couples, Shanna says, "Definitely plan the proposal ahead of time. Clément booked a planner for it and they sorted out the most perfect setting, and offered the best options for things like dinner, photos, and musicians."
3. Keep the ring (and other belongings) safe 
Our final tip comes from Managing Director, Darren Saunders who says, "The last thing you want to do before you propose is to lose or misplace the ring. If you're flying, keep it in your carry on, and take out separate insurance for it too, as cover for jewellery under your travel insurance will be limited. 
"While we hope your proposal goes off without a hitch, you should also make sure you're protected with travel insurance before you fly. That way, you know you're covered for things like medical expenses, lost luggage, and cancellations."
Methodology & Sources
We collected a seed list of the top 50 romantic locations commonly suggested in travel articles and blogs online. Using this list, we created the Proposal Travel Index ranking scoring each location across 7 metrics to reveal the world's best proposal destinations.
 The metrics included: 
The number of romantic restaurants

*

The average cost of a three-course meal for 2

The average cost of a bottle of wine

The number of activities suitable for couples

*

The average cost of the top-rated attractions

The number of romantic hotels

*

The average cost of accommodation per night 
*Metrics were made relative to the location's population to make the data relative and consider potential variations in crowd density. 
Alongside the index, we also used TikTok data to reveal the most popular locations, attractions, and landmarks where people propose. To do this, we looked at the locations and attractions with the highest number of views for the hashtags #[location]engagement and #[location]proposal.
Data correct as of September 2023.