Mediterranean beaches and European capital cities are once again busy with English tourists, thanks to the FCO giving exemptions to approximately 70 countries from the "all but essential" travel advice.
Here at PayingTooMuch.com we've been working hard with our panel of insurers to get coronavirus cancellation cover built in to new products. We're delighted to announce that as of 9th July you can now purchase this option from a few insurers, with more being added each week.
What's included as standard?
Provided you left the UK whilst the FCO advice did not advise against travel, all our policies will cover your medical and repatriation expenses should you contract coronavirus whilst abroad.
None of our travel insurance policies will cover you if you are travelling against government or FCO advice.
COVID-19 Cancellation Cover – what's included?
Check the specific wording of your policy before purchasing as there may be some subtle differences between each provider. However, generally, COVID-19 cancellation cover provides a refund on accommodation and travel costs in the event of:
You, or anyone on the policy, or any person you have arranged to stay with during your trip receives a diagnosis of coronavirus within 14 days prior the start of the trip

You, or anyone on the policy, is admitted to hospital due to coronavirus within 28 days of the start of the trip

Your accommodation being required to close after you have checked in because of you, a guest or employee being diagnosed with coronavirus

You, or anyone on the policy, being denied boarding following either a coronavirus diagnosis or a temperature test, or other medical test reading, which falls outside of the transport provider's terms of travel
A positive NHS antigen test will be required by the insurer as confirmation if making a cancellation claim. If you are denied boarding as a result of coronavirus you must have documented proof of this from the airline.
What's not included?
Claims will be denied in the following circumstances:
if you, your travel companion or close relative had symptoms associated with coronavirus at the time of booking the trip or the travel insurance
if you or your travel companion or close relative are awaiting results after undertaking a coronavirus test or had tested positive within the 15 days prior to booking your trip
How to buy Covid-19 cover?
When browsing the PayingTooMuch.com travel insurance results page you'll see a tick or a cross next to 'COVID-19 Cancellation Cover'. This indicates whether each policy includes the new COVID-19 cancellation cover.
Clicking on the 'Policy Wording' link will bring up the policy document containing all the terms and conditions.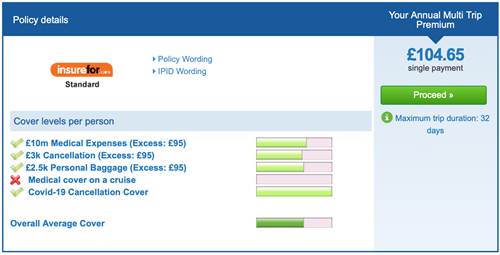 How much does it cost?
A single trip policy with COVID-19 Cancellation can be purchased one year before the date of travel. The cost will generally be higher if booked well in advance due to the length of cover being longer, and risk of cancellation being higher.  
Purchasing insurance closer to the date of travel may be cheaper, but you are leaving yourself uninsured for a period of time.
Does my existing policy include COVID-19 Cancellation Cover? 
Only selected policies purchased after 9th July will have COVID-19 cancellation cover included. All other products purchased before this date will still provide you with medical and repatriation cover should you catch the virus whilst travelling.
All travel insurance policies have a 14-day cooling off period after purchase. Within this time, you can cancel and receive a full refund. So, if you have purchased your policy within the last 14-days but wish to cancel and re-buy a new policy with COVID-19 Cancellation cover, simply call us on 01243 784000 and we'll be happy to help.
Can I travel whilst in lockdown?
If you are unfortunate enough to live in an area of the country which is currently in lockdown, such as Leicester, you'll be travelling against government advice, and therefore uninsured.
What if FCO advice changes?
You will also be uninsured if the Foreign and Commonwealth Office removes the country you are travelling to from the list of exempted countries due to coronavirus, before you travel. In both cases, you will be unable to claim on your travel insurance for cancellation.
If the FCO advice changes due to non-coronavirus related issues you will still be able to make a claim for a refund.
More information
If you need more information the best place to start is the policy wording document available from each insurer. If you have any outstanding questions, give our team a call on 01243 784000.