From 4am on Wednesday 30th June, you'll be able to travel to a host of countries just added to the UK Government's green list. Travel to a green list country does not require any quarantine or self-isolation on return home. But you will need a pre-departure test before your return flight and complete a test on day two.
The green list countries are as follows. The latest additions are highlighted in bold.
Anguilla, Antigua and Barbuda, Australia, Balearic islands (Formentera, Ibiza, Mallorca, Menorca), Barbados, Bermuda, British Antarctic Territory, British Indian Ocean Territory, British Virgin Islands, Brunei, Cayman Islands, Dominica, Falkland Islands, Faroe Islands, Gibraltar, Grenada, Iceland, Israel and Jerusalem, Madeira, Malta, Montserrat, New Zealand, Pitcairn, Henderson, Ducie and Oeno Islands, Singapore, South Georgia and South Sandwich Islands, St Helena, Ascension and Tristan da Cunha, Turks and Caicos Islands.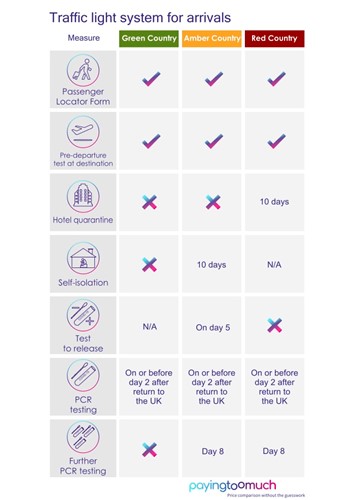 Green list requirements
Returning from a green list country is easy and relatively inexpensive. Travellers will need to pay for a PCR test on day two and provide details in the passenger locator form. There's no quarantine or self-isolation required. 
Full details can be found on the government website.
The Green Watchlist?
All countries added yesterday, except for Malta, were added to the 'green watchlist'.
The green watchlist is designed to give travellers an idea of which countries could quickly move to amber or red. The government announced the system in May to provide some stability and assurance to travellers that their travel plans wouldn't be thrown into chaos with last-minute changes.
However, the system was not used three weeks ago when the government moved Portugal from green to amber, bypassing the green watchlist.
With most green list countries now on the green watchlist, they could move amber or red with very little notice. Possibly even before the three-weekly review, next expected 15th July.
Planning tips
If you're planning to take advantage of the new travel freedoms, here are our top tips:
Remain flexible – make sure your airline, hotel, hire car etc., have adequate cancellation/rebooking options. Don't be caught out by changing travel restrictions.
Prepare for your trip – many countries require pre-arrival health declarations. Avoid wasting time at the airport and get everything done before departure. The best resource we've found for checking travel requirements is the Vueling website.
Don't forget travel insurance – insurance is more important than ever. Ensure you're covered for coronavirus, cancellation cover and medical expenses.
For more information and help on getting adequate travel insurance, contact our team on 01243 784000.