This week, changes were announced to countries on the UK Government's travel traffic light system.
From 4am on Monday 30th August, the following changes will come into force:
Montenegro and Thailand will move to the RED LIST
Canada, Denmark, Finland, Liechtenstein, Lithuania, The Azores and Switzerland will move from the amber list to the GREEN LIST.
Whilst Canada has gone green, it currently has a ban on British nationals entering the country.
If you arrive in the UK before 4am on Monday 30th August, you'll need to follow the rules on the day you arrive. Not the new rules.
So if you are coming from a future green country, it may be wise to extend your stay by a few days. If you are coming from Montenegro or Thailand, try to get back as soon as you can.
Next update?
The next update to the traffic light list will be made on 16th September. The Government has previously committed to not making any changes before this date. However, nothing can be taken for sure.
A 'checkpoint review' on the traffic light system is due on 1st October.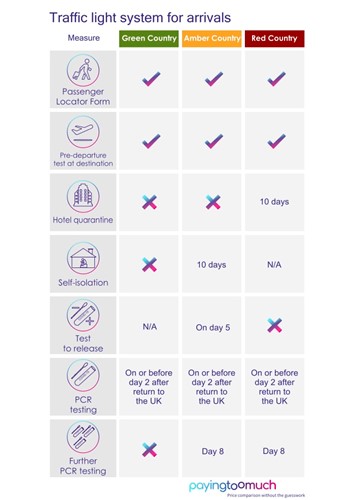 What do I need to do?
If you are returning from a red list country, you'll need to quarantine for 10 days in a government-approved hotel. The cost is £2,285 for a single adult and £3,715 for a couple. Children aged between five and twelve costs £325, and children under aged under five are free.
If you are returning from an amber list country, you will not need to quarantine provided you are vaccinated. You will need to complete a PCR test on day two.
If you are unvaccinated, you'll need to self-isolate at home for ten days, testing on days two and eight. You can test to release on day five.
There is no quarantine requirement if you return from a green list country, regardless of vaccination status. You will still need to do a test on day two though. 
Travel Insurance for amber list countries
Payingtoomuch can provide you with excellent, top-quality travel insurance to amber list countries.
The colour of the country does not affect whether you can get insurance or not. Insurers are only interested whether the Government has advised against 'all' or 'all but essential travel'. 
Provided the Government isn't advising against travel, we can insure you! Some of our policies will even cover you inside Europe against FCO travel advice.
To find out more, see our COVID-19 Travel Guide or call our team on 01243 784000.