From today, international travel is once again permitted. Since the UK government released the traffic-light system earlier in May, a lot has happened. Here's a roundup of the latest news and issues.
Traffic lights not the same as Foreign Office advice
The Foreign and Commonwealth Office advice is not the same as the red, amber and green traffic lights.
Why is this important? Well, the FCO advice has a significant impact on your travel insurance. If you wish to travel against FCO advice outside Europe, you won't have any travel insurance cover. If you want to travel within Europe, you'll need to make sure you buy our FCO travel advice extension.
For more information, please have a look at our Covid-19 Travel Guide.
 
Europe
Worldwide
PayingTooMuch.com Travel Insurance
Date: 17th May 2021
In compliance with Foreign Office advice
Travel against the advice of the Foreign Office

In compliance with Foreign Office advice

Travel against the advice of the

Foreign Office

Before you leave the UK Cancellation Cover including Covid-19
Emergency Medical Treatment Abroad without Covid-19 cover
Emergency Medical Treatment Abroad with Covid-19 cover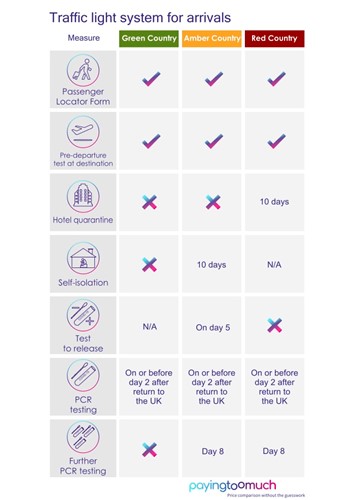 Portugal gives the green light to tourists
As discussed in our previous blog, just because a country is on the UK's 'green list' doesn't mean you are permitted to travel. Generally, entry to the EU from third countries is currently banned, including the UK following Brexit.
Each EU country can differ from EU rules and allow entry if they wish. Portugal is the first country to break away from the EU rules and enable British tourists entry from 17th May.
You'll need a PCR test before leaving the UK, as well as two further tests before and after entering the UK.
There is hope that more of the EU will open up for tourism from 20th May. Watch this space.
easyJet and TUI offer holidays to amber countries
For those working from home and can self-isolate, once the EU gives the green light for entry, holiday companies are queuing up to offer you cheap trips abroad. You'll need to take multiple tests before and after arriving in the UK.
Make sure you check FCO advice before travelling, or you may find yourself without travel insurance.
Useful links
Re-open EU: Find all the latest restrictions and details for the EU. Use the coloured map to see where you can and can not travel.
FCO:

 

Foreign travel advice – see the current travel recommendations from the UK to all 226 countries.
AFAR: A good guide for seeing where vaccinated travellers can go.
Need help?
If you need any further help or have questions about travel insurance, don't hesitate to call our team on 01243 784000.