Buying car insurance doesn't have to be a confusing and time-consuming process. Let's have a look at some of the common questions we get asked regarding car insurance.
By Miles, Classic Cars and Young Persons' Cover
Here at PayingTooMuch.com, we accommodate all drivers. In addition to the standard car insurance cover, we have partnered with By Miles for drivers who only use their car infrequently. Using By Miles, you only pay for the miles you drive, not the miles you don't – kind of a pay-as-you-go system.
For young drivers, we've partnered with Marmalade to give great value insurance for first-time drivers, who often find general insurance prohibitively expensive.
We're here for classic car owners too. We understand the motoring needs of classic car enthusiasts, so let us help you get a great deal so you can just enjoy the drive. Give our team a call on 01243 219283.
Three types of car insurance
How well do you really know the different types of car insurance? Here's a round-up:
Third-party only: This is the most basic level of cover, and the bare minimum required by law. This covers you for damage to other vehicles, injury to other people and animals and damage to property. You aren't covered for damage to your own car or any injuries you sustain after an accident that's deemed to be your fault. That's coming out of your own pocket.
Third-party, fire and theft: A third-party, fire and theft policy has all the benefits of a third-party policy, but with extra protection for your car if it's stolen or catches fire. This kind of policy may also cover you for damage that happens as the result of attempted theft, e.g. if a thief breaks your window to steal your stereo.
Fully comprehensive: All the benefits of third-party, fire and theft, but with cover for your own car, even if an accident is your own fault. Some insurers will add extras such as windscreen cover, courtesy car and breakdown cover.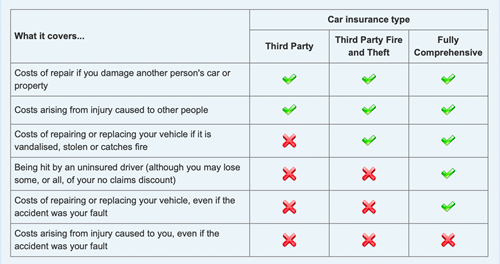 Modifications
During the purchasing journey, you'll be asked whether you've made any alterations to your car. Modifications fall into two categories – performance and cosmetic. You'll need to let your insurer know if you've made ANY modifications to the manufacturer's original specification. Examples of modifications are:
Performance – Engine remap, intake and exhaust upgrades, changing the wheels or wheel arches, suspension changes, fuel upgrades.

Cosmetic – racing stripes/stickers, body kits, dashboard upgrades such as changing your car stereo, tinted windows.
Not all modifications will increase your premium
Some modifications may actually reduce your premium. Parking sensors will likely reduce the risk of bumps and scrapes whilst parking. Some insurers see tinted windows as a lower risk due to added privacy. Upgrading your car security with an improved alarm, immobiliser or GPS tracker is a great way to lower your potential risk and reduce the premium.
Policy excess
Car insurance excess is the amount of a claim which will not be paid by the insurer in the event of a claim. You'll be able to select a voluntary excess which will usually be added to a compulsory excess set by the insurer.
Generally speaking, the larger the excess (compulsory + voluntary) the cheaper the policy will be.
However, be careful not to set an excess higher than you can afford.