No? Well maybe you should. There's nothing quite like the great outdoors – especially during a pandemic. Whilst searching for a summer holiday this year, I came across a small ski resort in the Austrian Alps called Lofer. Being a keen skier myself, I was intrigued.
What can you do?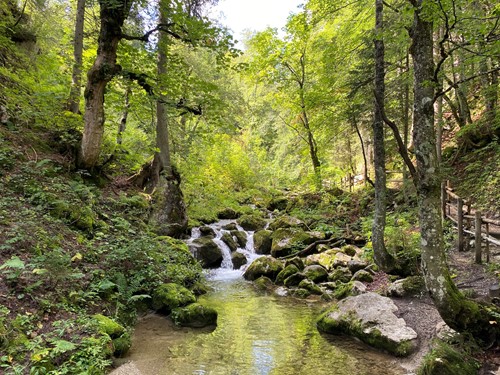 For anyone who likes the fresh air, there's plenty to do in the Alps. Swap your white ski piste map for a green hiking map, and you are half-way there. Most resorts operate a few lifts during the summer to take up hikers, cyclists and just about anyone who wants some exercise with a view, or even just a high-altitude beer.
Walking/hiking trails are well signposted, graded on difficulty, and range from short flat walks to difficult mountainside hikes alongside cascading waterfalls.
If walking isn't your thing, hiring a bike (or cheating with an electric bike) is as easy as renting skis. Just like the walking map, there is a cycling map and sign posted trails too.
For the adrenaline-seekers, there's also white-water rafting, mountain climbing and caving.
Whether you love walking, photography, cycling or would just enjoy lunch in a mountain restaurant, there's something for everyone on a summer mountain holiday.
And need I mention the truly spectacular views…

Expensive as skiing?
No! This trip was exceptional value. I paid approximately €80/night for an all-inclusive package for two people at Hotel St Hubertus. The food was excellent, the staff were friendly, and the drinks were on tap.
Included within the package was the 'Lofer Summer Card' which allowed us to use the lifts once a day, as well as free entry to other local attractions such as gorges, swimming pools and caves.
How to get there?
I flew in to Munich and rented a car. Expect the cost of hire cars and flights to be cheaper in summer compared to winter. Book early to get the best deals – especially since most airlines are currently offering free date changes on air tickets. 
The summer season in the Alps is coming to a close now, as the weather turns towards winter. Austria and France are currently not on the government's air corridor list, requiring quarantine on arrival in the UK, but we would hope these restrictions will be lifted in 2021.
If flying isn't your thing, consider driving from the UK and make the journey part of your holiday.
Travel insurance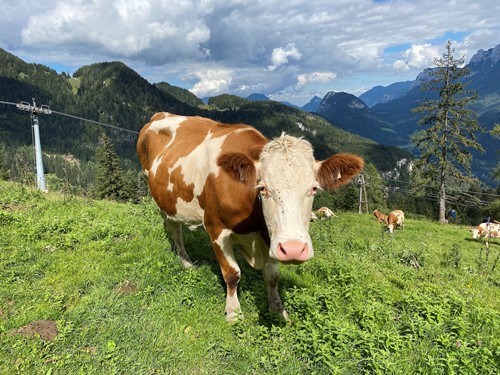 With any trip, good travel insurance is vital, but even more so when your trip involves sport in the great outdoors. You will need to ensure your travel insurance policy will cover you for all activities.
Check your travel insurance terms and conditions before purchasing a policy to ensure you have adequate cover. Most insurance policies will include sports such as hiking and white-water rafting as standard, but with some restrictions based on altitude and severity of river etc.
Make sure your travel insurance policy has COVID-19 Cancellation Cover included. You can find out more on our recent blog: Covid-19 Cancellation Cover - All You Need To Know
If you have any questions on your current cover, or need to get a new quote, call our team on 01243 784000.