I'm writing this from a balcony in Palma de Mallorca, overlooking a very quiet beech nestled among closed and empty hotels. The beech bar is open, and happy hour (actually three hours) is as busy as ever with locals, expats and the odd tourist enjoying the freedom to slurp a cold beer.
Before I continue, I need to make it clear that I am not on holiday. I am British and have spent lockdown in the UK but have residency in Mallorca. During normal times, I have a full-time job from the island during March – November. Probably not in 2020 though.
With Spain ending the state of alarm on Friday 19th June and announcing the end to the 14 day quarantine, I took the earliest opportunity to get back to Palma. Ryanair are the first UK airline operating international flights post lockdown, which is how I found myself at Stansted airport at 3pm on a Sunday in late June.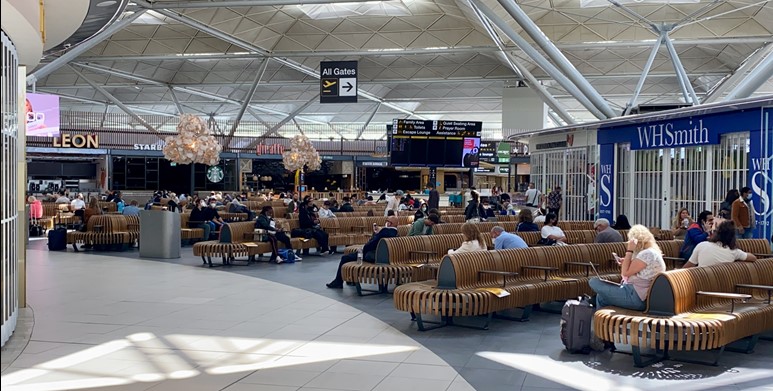 Navigating through the airport
My first top tip – arrive in plenty of time! Although airlines often advise being at the airport 2.5hrs before departure, I suspect most people leave less time than that. Travelling post Covid-19, everything takes longer, there's more to do (more on that later), and communication is more difficult.
The main differences I noticed:
Socially distanced queues - As we've seen in other situations queuing two meters apart means the queues are long! Really long! Of course – theoretically they take the same length of time, but they are physically longer than normal, therefore winding around the airport. This did make finding the right queue occasionally challenging.
Mandatory face masks – Passing through security I was presented with a face mask handed to me by a man with a pair of barbeque tongs. Wearing this face mask was mandatory whilst passing through security and onboard the aircraft. You could bring your own – but I wasn't about to refuse a free face mask!
Aircraft delays – You are probably thinking "what's new?" but restarting an airline and airport after being mothballed for three months is not something that happens often. Add in the new complexities with Covid-19 regulations, and delays will likely become even more common.
Take your own food – The only open outlet in the terminal was a Boots chemist, who had sold out of fresh food and only had drinks, confectionery and crisps available. There were only a handful of flights operating last weekend, but with more passengers, expect some food outlets to open soon.
My flight was delayed one hour due to offloading baggage for a large number of people who didn't make it to the gate in time. This was caused by large queues and delays getting through security. Although Ryanair did wait an extra 30 minutes for passengers, there is obviously a limit for delaying the whole aircraft.
Don't be that person - anticipate delays and arrive early!
Covid-19 at 36,000ft
Onboard, with the exception of everyone wearing a mask, there was very little difference. All the seats were available – as will be the case with BA, Ryanair, easyJet and the majority of airlines. However, on this occasion the flight was half full, so people could spread out as they wished. A full food and drink trolley service was available; however, the onboard panini was still wildly underwhelming.
Arrival in Spain
At the bottom of the aircraft steps in Palma I was handed a health questionnaire to complete. Basic questions on who I was, where I was staying, did I have symptoms and a health declaration. This can be downloaded, printed and completed in advance, by clicking here.
Once in the terminal, it took only a few minutes to present my passport, hand in my health locator form (which wasn't thoroughly checked) and then walk through a thermal imaging camera. That was it – out to the taxi rank and off we go.
What's Mallorca like post-lockdown?
Well – quiet. Bars and restaurants are open and I'm completely free to move around as I please. Wearing of face masks is mandatory when in the supermarkets and shops, but not in bars and restaurants. Nightclubs and party-boats are not likely to re-open this year, disappointing Stags and Hens everywhere, but delighting locals and families in popular party resorts, such as Magaluf.
Most hotels still appear to be closed, but many plan to re-open soon. Access to swimming pools is a challenge which still needs to be overcome. The law requires a reduction in the maximum number of people in the pool as well as regular sanitation. I expect this to improve in time as local governments experiment with regulations.
Beach access is good, but as you can see from this local news article, new restrictions may be needed if crowds start to become an issue.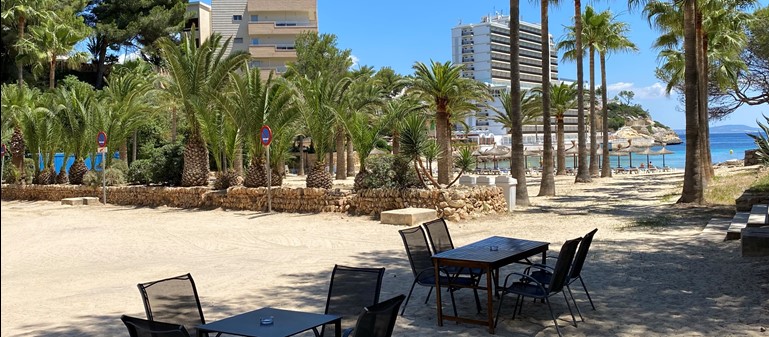 Spain's fractured response
With the end of the Spanish state of alarm, comes the end of centralised rule making in Spain. Central government is now taking a backseat role, publishing guidance information for Municipalities to implement as they wish. Therefore, you can expect some variation as you travel around Mallorca, and greater Spain, in the rules being enforced. So just because something is okay in Palma, doesn't mean it will be in Benidorm. So check local rules and guidance for the resort and location you are planning to visit.
FCO Advice
Sounds great – BUT – the FCO advice still warns against all but essential travel. This means that travel insurance is not currently valid. This was not an issue for me, as I have local state healthcare, but this would be preventative to most tourism.
However, this advice is expected to change soon, probably alongside the creation of 'air bridges' which will link countries, such as Spain and UK, and remove the need to quarantine at either end. 
For more general information on traveling this summer, see last week's blog