Sometimes filling out home insurance forms can become quite tricky, especially if you don't know the answer to some of the questions. Here at PayingTooMuch.com we take time to guide our customers through the quote process. So to help you out, we have compiled a few questions we think you might want to spend some time researching the answers to.  
Rebuild cost of the home
This question solely relates to the cost of rebuilding your home, not the market value. The final sum is less than the market value of your home. The reason for this is because factors such as the land, location, school catchment area, and supply and demand are not taken into account when calculating the rebuild cost.
You could find the rebuild cost of your property by using a cost calculator from the Royal Institution of Chartered Surveyors (RICS) which is on the Association of British Insurers ABI website.         
Level of contents cover
Contents insurance covers the financial cost of repairing or replacing your household personal possessions and furnishings. This type of insurance covers loss or damage to all the things in your home which are not part of the structure or the building. If you had an estimate of how much your contents might be worth, you can choose cover which is best suited to you, meaning you won't pay more than you need to.
Blanket cover
Some insurers save you the hassle of working out what your buildings and contents are worth by offering blanket cover.  Your contents may only be worth £20,000 to £30,000 but you could be offered blanket cover of £75,000.  Plus, your buildings rebuild cost could be just £200,000 but you'll be offered cover up to £1 million to save you having to calculate the real value.
Valuation of specific valuables
There's usually a maximum amount that your insurer will pay out for an individual item. For example, if the limit on your policy is £1,000 then you won't be able to claim more than that amount for one valuable. If you have an item of jewellery or a piece of antique furniture which is worth more than the maximum policy pay-out then you will need to declare this, and have it insured as a high value item.
Claims history
Have you ever had to make a claim? If you have then you will need to be able to provide details of what the claim was. Make sure you have details to hand such as what the claim was for, when it occurred, and how much you have claimed for from previous insurers.
Proximity to a water course
If you live within a certain proximity to a water course, then you will need to let the insurer know as your property will be at greater risk.  You can check using a map or can contact your local council to find out how close your property is if you are unsure. Try to be precise, but if you know that it is within 400 metres then that will suffice. Visit the Environment Agency website for more details. 
Percentage of flat roof
Now, this question constantly confuses many customers and rightfully so. The definition of a flat roof is that the pitch or slope is less than 15°.
If you live in a property similar to house B, then an estimate of the roof would be around 50%.

History of the house
In this case, we don't want to know if the property is haunted. This is more along the lines of building work which has occurred such as extensions, roof conversions, subsidence fixing or if it is a listed building.
Types of locks
There are numerous types of locks for windows and doors, so before you begin your quote, make a note of which ones you have in your home. You will be asked what kind of locks you have, so be accurate as your policy will need to be accurate. 
Types of locks you may have: 
Mortice Deadlock,
Mortice Hook Bolt Lock
Mortice Security Bolt
Night latches (pictured)
Multi-point locking systems
Patio Door Locks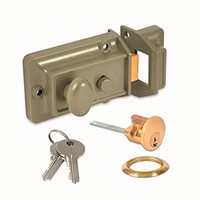 In many cases, your insurance company may require you to fit a BS3621 British standard lock as they have been designed and rigorously tested to meet the minimum-security standards set out by the British Standard 3621 assessment.
Roof construction
This question is looking to find out what materials are used in the construction of your roof. Sometimes one of the only ways you can be sure is to look directly at the roof but if you live in an apartment it isn't an easy thing to know. For some people it might be obvious, such as slate or even thatched, but if you aren't sure then you can arrange for a building firm to pay you a visit and let you know for sure.
It is worth checking the deeds to your property as there may be details on any conveyancing which has been undertaken or additional details on the construction of the property.
It is important to know what the roof is made of as this will affect the cost of repairs should you need any to be made.
Underpinning
You will be asked if your property has ever been underpinned. If you aren't sure what underpinning is, it is a construction method for buildings that have subsidence. You can find out if your property has been underpinned from your property paperwork.
If your home insurance policy is due for renewal, then contact PayingTooMuch.com on 01243 219333 and get a quote in minutes.