Most of you have probably experienced issues with car hire companies already, and if not then we highly doubt that this is the first you've heard of car hire scams existing. Either way, here are our top tips on how to make sure you don't end up facing one yourself...
Check the small print
This is always the most important thing to do when entering all contracts, including hiring a car. Make sure you understand the fuel policy when you arrange the hire, and check for hidden fees. When we say hidden, we really mean it…
We recently interviewed Mr James from Littlehampton, West Sussex, who could have lost up to £90 if he hadn't double-checked the terms and conditions. He looked online and discovered what looked to be a great deal for a two-day hire, as shown below: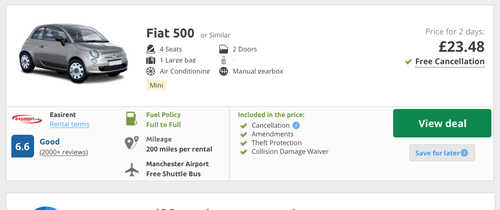 When he clicked through to the 'Rental terms' to make sure there were no extra fees, he thankfully discovered that there were none. However, it is a good job that he spotted a secondary link to 'Full rental terms' as there he discovered a fairly hefty 'Administration Charge' of between £66 and £90 per rental. Now if that's not a hidden fee, we don't know what is!
Take photos when you pick up the vehicle.
Car hire companies are somewhat renowned for trying to charge customers for pre-existing damage to vehicles. An article in the Sun highlights how a Spanish-based car hire company has previously been criticised for charging British holidaymakers thousands for pre-existing damage.
 You should usually be given, or at least shown, a diagram of the vehicle marking out any previous damage. To avoid being scammed, always make sure you check the vehicle yourself. If you notice any damage that hasn't already been flagged, make sure you highlight this to the car hire company before driving off. For extra protection, take some photos of the existing damage so that you have proof.
Insist on an employee inspecting the vehicle with you at the end of the hire.
Most hire companies allow you to simply park the car and put your keys in a 'drop box' at the end of the hire period. However, it is a good idea to insist on an employee of the company inspecting the car with you before you walk away. You will then have confirmation that they are happy that there is no new damage.
Buy your own insurance.
Without fail, car hire companies will say everything they can to get you to buy insurance from them. It might not be the case 100% of the time, but buying your own insurance is usually much cheaper. This type of insurance policy is known as Car Hire Excess Insurance and can be as cheap as £50 per year, compared to £30 per day with the car hire company. How does it work? Basically, if you damage your vehicle, you lose your deposit with the car hire company (usually in the thousands!), however you can then claim it back from your Car Hire Excess policy.
Choose the best policy for your trip.
There are a few different types of policy you can choose from:
Pre-Paid: pay for the tank of fuel when you pick it up.
Pre-Paid (refund): pay for the tank of fuel when you pick it up and receive a full refund for any fuel left in the tank when you return the vehicle.
Pre-Paid (partial refund): as above but minus a service charge
Full to Full: return the vehicle with the same amount of fuel as it had when you picked it up or face a refuelling fee.
When budgeting for a hire car, make sure to include any service charge fees in your calculations. As these are fixed fees, they can make short term hires considerably more expensive. However, adding this fee to a longer and more expensive hire will have less of an impact on budget.
As a general rule, you will find that a Full to Full policy is cheaper for short-term hires. You will pay slightly more per day, but as this will only be for a few days it will most likely be less expensive than the one-off servicing fee on a Pre-Paid fuel policy.
Of course, car hire policies vary a great deal between each company, so the best advice is to take your time and do some research before purchasing.