A new crackdown on drunken airline passengers has been launched in time for the big summer getaway, with nine UK airports issuing warnings over traveller behaviour.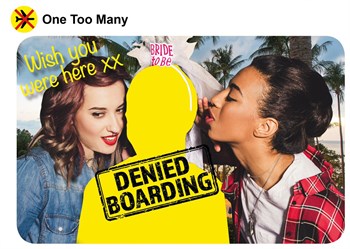 The government-backed 'One Too Many' campaign, which was organised by the UK Travel Retail Forum, the Airport Operators Association, IATA, and Airlines UK will see travellers warned that they face a fine and life ban from various airlines if they cause any disruption on flights or in the airport. Airlines, airports, shops and airport police will identify inebriated passengers intending to board planes to and from the UK and warn of the consequences of disrupting the flight.
Rafael Schvartzman, IATA regional vice-president for Europe, said: "Any incident is one too many. Airlines have a zero-tolerance approach to unruly behaviour, and cabin crew and passengers have a right to a flight free from disturbance and harassment."
The problem in figures
417

flights were endangered by abusive and violent travellers in 2017, more than double the total five years earlier.
Up to

£5,000

infines for passengers found to be drunk, plus a two-year prison sentence for breaching air navigation orders.
Can be charged

£80,000

to cover the cost of diverting a flight if the plane is forced into an emergency landing.
Between 2007 and 2016, over

58,000

unruly passenger incidents were reported on aircraft in-flight.
Aviation minister baroness Sugg said: "Disruptive passengers have the potential to ruin other people's flights, and this campaign is an important new step to ensure all passengers are aware of the consequences they face if they behave disruptively after drinking before or on board a flight."
What to do if my flight is diverted or cancelled
If you are travelling from a European airport or to a European airport on an EU airline and your flight is cancelled, your airline must either offer you a full refund or rebook your flight subject to the airline's rebooking policy but, if you've booked your flights independently and you decide to accept their offer of a refund, your airline no longer has any obligation to look after you.
If you are left stranded as a result of your cancelled flight, you will be entitled to a welfare package from your airline. Often this will be food and drink, two phone calls and, if you need to stay overnight, hotel accommodation as well as transport to and from it. This will either be arranged by the airline itself or it will reimburse reasonable costs if you tend to your own arrangements.
Travel insurance is essential
Although you can claim a full refund from the airline for a cancelled flight, the airline will not pay for any other items regarding the trip such as cancelled hotels/hire cars. This is where a comprehensive travel insurance policy can save you hundreds of pounds.
When buying travel insurance check all of the policy details to make sure your you are covered for irrecoverable losses as a result of delays or cancellation.
If you would like to book your travel insurance for a trip, contact our travel team on 01243 784000 and they will do their utmost to find an affordable quote.