Trying to save on parking fees could potentially cost you more than you bargained for.
Airport parking charges can add extra costs to your holiday which you might not have considered at the time of booking you holiday, and in some locations a few nights parking can cost £80+. With this in mind, some holidaymakers decide to park in streets which are near to the airport, or by train stations with links to the terminal in order to save on the parking fees. But if you don't know the area very well, your car might be at risk by disgruntled residents who struggle for parking spaces, especially if you are parked there for a couple of weeks. Even if you do know the area quite well, there is no telling what could happen to your car whilst you are away.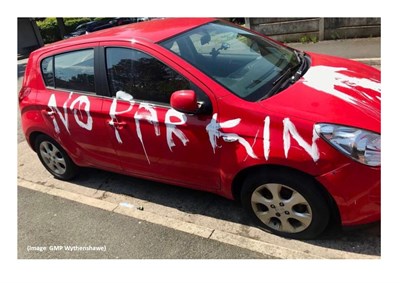 It was recently reported that a holiday maker from Liverpool parked his car a few hundred metres away from Manchester airport in a residential area, only to return from his trip to find that his car had been vandalised (pictured). Annoyingly for the driver, the car wasn't parked in an area requiring permits or on any double yellow lines and was perfectly acceptable to park there. According to the Manchester Evening News the vandalising comes amid residents' increasing annoyance over holidaymakers and airport staff parking their cars in streets around the Manchester Airport, trying to save money on the parking fees.
Despite the vandalism which left the car covered in white paint, the holiday maker said that the incident has not put him off doing it all again and will still park in streets around the airport to save money. Fortunately, he was fully insured, but it can be a headache trying to fix something after returning from a trip - which could have been avoided just by paying the parking fee.   
Have you ever parked your car along a residential road when you have gone on holiday or do you prefer to get a taxi to the airport?