Over the last few years Turkey has seen a number of serious issues affecting their tourism sector such as terrorist attacks and a failed attempted coup of the government, but with increased security and stability within the country, tourists are returning to the once popular holiday destination thanks to low cost deals at many of the five star resorts.
In 2014, Turkey attracted around 42 million foreign tourists to their cities and resorts bringing in a record-breaking $34 billion, however in recent years the number of tourists heading to the former sixth most popular tourist destination in the world halved in the years since, welcoming just 24 million foreign visitors in 2016.
The Foreign and Commonwealth Office (FCO) has lifted a number of warnings on visiting Turkey that were in place for the past few years, although it still advises caution. It says, "most visits are trouble free", but adds that visitors should "be alert to your surroundings and remain vigilant in crowded places".  It gives most of the country a green label, indicating travel is safe, with the exception of a few regions.
Aaron Hackett, Holiday Channel Manager at payingtoomuch.com said: "There are some truly amazing offers available for families looking for a holiday in Turkey. Security has been increased around airports, resorts and tourism areas but you should still keep vigilant whilst away as you would be going to Brussels, Paris or any other destination which has been involved in terror related threats. The FCO have given the country a green label and travel insurers will cover you for your visit. Just make sure you don't go anywhere you shouldn't and adhere to the country's rules and laws. Now is the time to go before the prices increase and resorts are quieter than usual."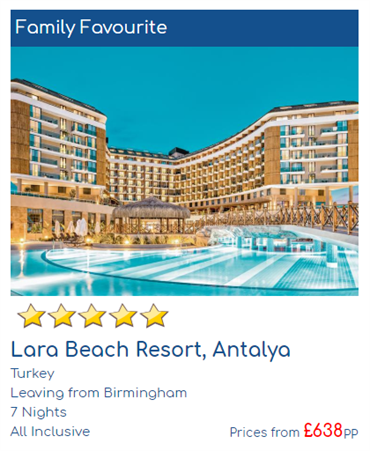 Tremendous Turkey Deal 
Give your holiday a touch of modern glamour at the Aska Lara Resort & Spa, one of Lara Beach's newest hotels with hip style, indulgent restaurants, and amazing beach facilities. It's a complete paradise for families, thanks to the Wet 'n' Wild water theme park.
With nine thrilling slides, a splash park for the little ones and an amusement park, there's plenty to keep the kids occupied whilst you enjoy some well-deserved pampering in the spa. 500m from the hotel's private area of Lara Beach (courtesy shuttle bus available); 19km from the resort centre.
If you would like to book a trip to Turkey or any destination, call us on01243 213 213 today.