What are the main benefits for going on holiday? For many it's visiting amazing locations, learning about diverse cultures and sampling some fantastic food. It's all about making memories. Exactly what a cruise can offer.
With the financial squeeze hitting many families, the opportunity to go on more than one holiday each year is harder to do. Choosing which location to visit is a tough decision to make and because of this the number of young families going on a cruise has in fact increased for the first time as the opportunity to visit several destinations in one trip is very attractive.
Almost two million cruises were sold in the UK last year, and most were bought by those aged 40 or over and the average age of a UK cruise-goer was 56. Recent research by travel industry association ABTA found that in the coming year one in ten 18-24-year olds and one in ten 25-34 year olds think that they'll take a cruise.
The trend of going on a Club 18-30 trip to Ayia Napa no longer appears to be an attractive destination for that age group, which is why Club 18-30 have been struggling financially for several years and are on the brink of being sold off by parent company Thomas Cook.  Attitudes have been changing with the times and with online dating becoming the preferred way to meet someone, the prospect of going abroad clubbing for the same reason is no longer the draw to going on this type of holiday.
So, what can a cruise offer younger couples and families?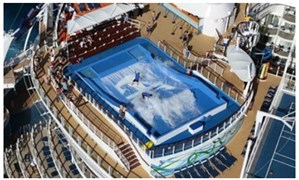 Many activities on board the ships are designed to appeal to a younger audience. Everything from surfing and bowling, to sushi making and wine tasting. Each ship, unless stated as an adult's only cruise will include a kid's club which will be included in the price, with many fun and suitable activities.
Some cruise line also offer a night service so you can head off for a romantic dinner for two with your little ones being looked after.
It's no longer just card games and bingo for the passengers as the type of onboard entertainment is changing with the times. Broadway shows, deck parties and cinemas showing the latest blockbusters are giving passengers a richer experience and for the price, it's a steal. The quality of food on offer is also one of the main reasons cruises are ideal holidays as many cruise ships have four and five-star restaurants with first class service. What's more, it's all included in the price*.
Did you know that Disney have an award-winning cruise company?
The House of Mouse offer some of the best holiday experiences in the world for families at their theme park resorts in the US, Europe and the Far East so extending the experience to a cruise ship was an obvious choice. Disney aim their products at all generations, so focussing their attentions on the fans of the parks and offering them a Disney themed cruise can be a great 'in' to the world of cruising and ideal for families with young children. Plus, you can meet the characters from the parks on the cruise ship, something ideal for kids and grownups alike.
Sailing from many ports in Europe, USA & Puerto Rico and Canada, the choice of destination is vast. Choose anything from a 2-night mini cruise from San Diego to a 14-night Panama Canal cruise from Port Canaveral in Florida, not to mention the 11-night cruise from Dover to New York City.
Book your cruise today!
Cruises are incredibly excellent value so it's no wonder more and more people of all ages are opting to book a holiday on the seas. Fall asleep in one country and wake up in another. That is the beauty of cruising… your home from home at sea and the perfect relaxing choice for a few days away.
If you would like to contact our holidays team regarding a Disney cruise or any other holiday, call us on 01243 213 213 and book the trip of a lifetime for the whole family.
*Almost all included – you may need to check if alcoholic drinks are included. Drinks packages can be purchased at a reduced cost before boarding.