Roger Mallock, PayingTooMuch.com's cruise expert, along with 150 travel agents from around the country were selected to enjoy a whistle stop mini-cruise onboard Carnival Cruise's new launch 'Carnival Horizon', and shares his experience on the ship.
Roger: "This short onboard experience gave me the perfect insight into the increasing innovations to the fleet which gives a greater and broader appreciation of this wonderful cruise company that carries over five million passengers annually".
Setting sail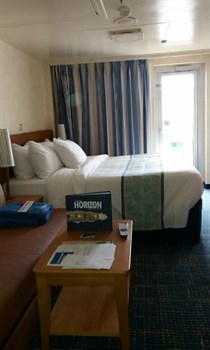 The two-night cruise began sailing along the Italian coastline boarding in Naples, gateway to Pompeii, Mount Vesuvius and the beautiful resorts on the Amalfi Coast, disembarking in the port of Livorno.
There are so many captivating forms of entertainment and high-profile guest acts on-board such as the 2016 winner of Britain's Got Talent, The Military Illusionist, Richard Jones.
Roger: "I was actually chosen to join him on stage, supporting his card trick. Richard has a great demeanour and his evening shows went down a treat with the audience."
By day - whilst at sea, you can expect to enjoy a full programme of entertainment doing as much or as little as you wish. This caters for a wide range of interests from sporting activities to games of bingo and other interest. In the evening there are shows and productions with great entertainment value and audience participation games such as 'Mr and Mrs'.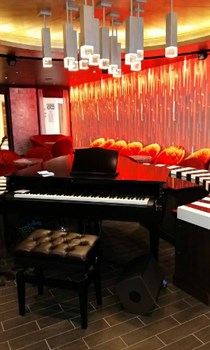 Carnival Cruise Lines, in common with all major cruise lines, offer very high-quality evening shows which may be musicals, large scale Broadway or West End productions, cabaret and themed shows. Piano Bar 88 is a very active area where resident pianists perform some of your favourite British and US songs for you to sing along to. One of the areas that Carnival do best is in the comedy arena. The Punchliner Comedy Club offers some of the finest comedy performances at sea. 
Roger:"The SkyBox Sports Bar was one of my favourite areas, perfect for live sports matches which you can enjoy on large screens within an intimate and warm atmosphere".
From buffets to barbecues
Carnival Horizon serves up a wonderful mix of quality onboard activities and a wide selection of alternative dining options and cuisine across the ship.
If you are looking for a quick buffet bite, the Lido Marketplace on deck 10 is the place to go. Or if you want something more substantial, perhaps Guy Fieri's Pig and Anchor Smokehouse which serves up four craft beer brands and typical barbecue fayre in a unique open-air location on deck 5 should hit the spot.  Restaurant Fahrenheit 55 offers the finest steaks onboard and there is the first ever Teppanyaki restaurant onboard - Carnival Bonsai.
Roger:"First and second dining is always offered in the main restaurants, but my favourite eating venue was Ji Ji's Asian Kitchen. A small and intimate location at the top of the ship on deck 11, where I can only say the dining was sumptuous in every sense. A starter of roast duck, main course of beef and wild rice, intricately decorated and accompanied with a rum cocktail. The two-hour dinner date experience came to less than 30 US dollars per person and was one of the highlights for me".
Activities across the horizon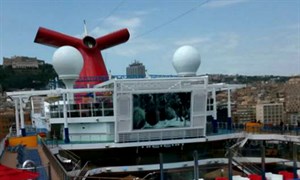 For outdoor and sports activities, the Skyride is a new stand out location where you can enjoy a ride in small cars hundreds of feet above sea level. The brand-new Dr Seuss Waterworks a water ride with flumes will keep avid water babies busy for hours.  There is an open-air cinema screen for movie goers to experience a cinematic marvel whilst on board and there is also an epic IMAX cinema theatre onboard to enjoy.
For those wishing to spend more time being tranquil, there is the onboard Spa Cloud 9 which will revitalise the senses and offers relaxation with real personal pampering for the guests. Treatments and services are offered at competitive prices, or simply take yourself away to the Serenity area of the ship where you can enjoy your own cabanas with peace, privacy and solitude.
The final secret of this ship is the Havana Bar on deck 5 with its own lanai and pool exclusively for guests in Havana staterooms (with very generous balcony spaces), this sizzling Latin live entertainment bar is open to all guests.  It is hard to believe that all this is available to guests, so whether looking to get involved or to simply relax there are spaces across the ship which will appeal to anyone.
Final thoughts
Roger: "With just two nights onboard, I was only able to get a small insight into this ship. Without question the Carnival Horizon will attract both established cruisers and first-time guests. The informal and relaxing onboard atmosphere will have huge appeal as will the wide selection of onboard activities and shows, and that is without the excursions and tours along the way. Take every opportunity you can to visit the monumental Colosseum - Rome's number one tourist attraction and climb the leaning tower of Pisa and add them to your cruise memories?!"
If you would like to find out more or would like to book a cabin onboard the Carnival Horizon contact us on 01243 213 213 and get your dream trip booked!