Think back, do you remember the P&O Cruise television advert starring Rob Brydon onboard Britannia? The song 'This is the life' is used in the advert and the question is 'does the P&O experience live up to the song'? Absolutely!  The British favourite with a maritime history going back more than 180 years is seeing more and more newcomers onboard to experience a holiday at sea for the first time.
When you taste your first cruise holiday, it will likely be an annual experience for life. As holidays in mainland Europe become more expensive, the opportunity has arisen for aspiring cruise passengers to take a value for money Mediterranean holiday at sea. Never a dull moment, there is much to do to keep all guests occupied with a lively social onboard atmosphere. 
During the British summer, the Oceana offers both one and two-week Mediterranean fly cruises to your favorite holiday hotspots. For winter 2019 Arabian Gulf fly cruises will be offered to the British market taking in Dubai and the Emirates.
So, what makes a good cruise for British passengers?
A home from home whilst in other parts of the world. This is where P&O Cruises excels. Quality accommodation, the finest service, varied choice of cuisine and the opportunity to meet like-minded people within a safe environment. The onboard currency is the British pound so there are no large service charges to sting you and the price of drinks onboard is very reasonable with the selection appealing to a cross section of tastes.
Then there is the entertainment, tastefully tailored to the British market. By day there is the chance to attend a live presentation from one of the guest speakers on board. You may well bump into them on deck, perhaps when on excursion or during one of the many onboard activity classes.  Bridge for you, perhaps Bingo?  Then there is the live entertainment choice at night, with a selection from a showband, a magic show, cabaret or perhaps you would like to enjoy a "strictly come dancing" show, a supper club, speciality fine dining or a jazz production? The value of a cruise is exceptional when you consider how much is included in the price. Then there is the fact that you can wake up in a different port or country every day. Mingle with the locals and go off independently when in port. Or if you prefer, see the highlights on a group excursion with your fellow travellers. 
Who is the P&O Cruise experience for?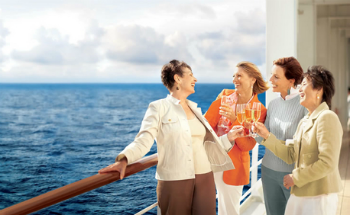 This is the beauty of modern day cruise as it appeals to a wide section of couples, families, multi-generational parties, special interest groups and not forgetting the solo market which is increasing all the time. Whatever your interest, it is sure to be catered for on a P&O Cruise.
With cruise durations lasting from two nights to a full World Cruise, lasting many months at sea, P&O Cruises have certainly got the world covered.
Holidays should be memorable for the right reason and a P&O Cruise certainly is just that. The British standard bearer for nearly 200 years, guests can enjoy family ships or if they prefer, adult only options are available too.
Southampton is the UK's number one port and is the home of P&O Cruises. Where destinations and itineraries are concerned you can literally head anywhere the ship can reach. Cruise ship capacity ranges from just under 2,000 guests to 3,500. Such is the undying confidence in the future that there are several ships on order, which will have a capacity of more than 5,000 guests. P&O Cruises – 'the nation's favourite', quite simply goes from strength to strength.
To book your next P&O Cruise through Payingtoomuch Holidays and take advantage of our exclusive pricing please call our cruise experts on 01243 213 213. Our team will help find you the trip of a lifetime and take care of everything from booking the trip to arranging transfers to the port.