PayingTooMuch's cruise holiday expert Roger Mallock thinks so…
What exactly is a holiday to you?  There was a time when a one or two-week summer escape to the sun meant staying in a familiar hotel with crowds of people. Eating the same food in resort, and miles and miles of sunbathers lining the Mediterranean beaches to have a healthy sun tan by the time they go home.  Often in a British speaking environment and even British food abroad.
Holidays have now changed from the standard two-week break and the cruise industry is growing rapidly as the modern holiday experience becomes more about those unique moments tailored to you. No longer merely beach breaks overseas, but now exploring historic cities in just a few days, seeing the highlights of former closed countries on a tour, experiencing the real and authentic cultures of worldwide regions, on your own terms, in like-minded company.
With several British ports to sail from, you can choose to cruise for just a few days - ideal if you have limited time – set sail for many weeks, or longer if you have more time to explore. Fly cruises are ideal if you have limited time as you can reach the sunshine in just a few hours and avoid sailing across choppier waters such as the Bay of Biscay or the North Sea. Cruising is a year-round product, presenting the opportunity to travel to warmer climates during the European winter.
Along with traditional, classic and resort style cruising, there's also the very individual 5-star cruise companies with smaller ships. Perhaps the fastest growth lies in Expedition Cruises, where the ships carry just a few hundred guests on adventures to every part of the globe. This is yacht-style, small group travel through stunning landscapes, getting right up and personal to nature. Travel around the Galapagos Islands off Ecuador, Antarctica and polar regions. If you imagine the remote areas included in these itineraries there is probably no better way to take in the accessible highlights and live the experience on tour.
This is the unique beauty of cruising, where you can even fall asleep offshore in one country and wake up in the next. Where tours are concerned, there is no better way to see the highlights of the ports you call into during your cruise. For example, in St Petersburg the options are vast, visit the Peterhof Palace, Russia's answer to Versailles. Other options include the Hermitage and Winter Garden, Catherine's Palace, Church of Spilt Blood, or even enjoy a river cruise on the Neva or a walking tour of the city.
You may choose to take some excursions on your cruise and this would certainly be advised. It is also worth knowing that the option exists to simply leave the ship in port on your own to enjoy time where you do your own thing. This gives you the opportunity to pursue your own interest and perhaps get away from your travelling group for a while.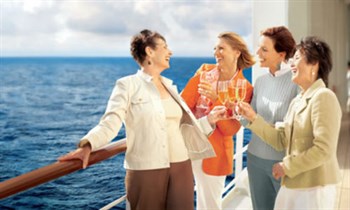 Cruise ships are the perfect haven to meet like-minded travellers. You may meet your next-door neighbour, or you may join in with other individuals or couples enjoying onboard activities such as Bridge and Chess. Cruise ships have such a varied entertainment programme you can make the most of this and try your hand at activities that you may have wanted to try but never felt confident to do at home. It is about trying new experiences, some guests may enrol to join the cruise choir, others to join the amateur theatre classes. You can even join the onboard dance classes with some cruise lines providing dance hosts to help you get the best out of it.
You can enjoy unique and authentic experiences throughout your holiday at sea. It is also the highly personal service on board from all crew members that makes the cruise holiday so appealing.  You are literally treated as a VIP throughout with your preferences noted and applied to all aspects of your holiday.
Ultimately it is the number of repeat guests to the cruise lines which is testament to how attractive the holiday at sea option has become. Through media, television programmes and unique innovations, cruising is now one of the first shopping list choices for holidaymakers.
If you would like to speak to Roger or any of our team about booking a cruise holiday, call today on 01243 213213.