Insurers may not pay out if you didn't take adequate precautions
When you book a tropical holiday, you often plan for crystal clear skies, high quality food and luxury accommodation. What you don't plan for is contracting a life threatening tropical disease, which can ruin more than your trip.
Risk takers
Recent reports suggesting that one in four British holiday makers are not getting vaccinated before going on holiday, with many deciding to take flights to countries which are still a risk, so it is foolish to ignore the dangers. This could make their travel insurance policy invalid as, in some cases, insurers may decide not to pay out for any expenses incurred because of a tropical disease or illness if they find that the policyholder was negligent and didn't take precautions advised by medical advisors.
Before you travel
Before you travel, you should visit your GP and discuss what inoculations, if any, are required. They will be able to advise you on what you need to take and how soon before you travel you should be immunised. Some vaccinations need to be taken up to eight weeks before travelling, so planning is essential. Visit www.fitfortravel.nhs.uk for more information regarding health information for people travelling abroad in the UK.
In some parts of the world, certain countries will not let you enter if you haven't had required inoculations. For example, in certain countries in South America and Asia, you are recommended to take injections for the following:
Tetanus
Diphtheria pertussis
Hepatitis A
Typhoid
Yellow Fever
Some of these are all free and available on the NHS and will cover beyond the length of your stay. 
Getting cover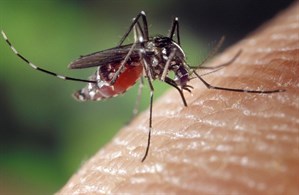 The second step is to make sure you have adequate travel insurance. Reports from the Association of British Insurers (ABI) show that there have been numerous occasions where British tourists have required extensive medical cover after being bitten by insects. For one individual, insurance costs for treating complications following an insect bite in Chile were £136,000 and £40,000 was spent to cover costs in Indonesia after a holiday maker was bitten by a mosquito and contracted Dengue fever.
It goes without saying that the best way to avoid the need for medical attention is to not put yourself unnecessarily in the position of requiring it. Take precautions when you travel by packing a medical kit with you, use antibacterial hand wash, insect repellent and only drink bottled water.  Even with malaria tablets, travellers should try to avoid mosquito bites to reduce their risk of catching dengue or chikungunya - for which there are no vaccines or cures.
Travel insurance 
You can apply online for travel insurance using our online quotation tool, which allows you to manually add all your medical conditions yourself. Alternatively, you can give our helpful Sussex based team a call on 01243 784000. They will be able to help and guide you through the entire process.
Sample Quotes*:
| | |
| --- | --- |
| Via PayingTooMuch.com | £137.11 |
| Saga | £250.50 |
| Post Office | £298.82 |
| John Lewis | £463.49 |
*Premiums based on 2 travellers age 72 and 71, travelling on a cruise to Singapore, Vietnam and China for 14 nights, 10th September. Traveller one has had surgery for an inguinal hernia and takes one tablet for high blood pressure, traveller two diagnosed with asthma under the age of 50, takes two inhalers and has gastric reflux. Both non-smokers. Prices correct at 08/08/2017.