Hiking holidays are becoming increasingly popular, one reason for this is the peace and quiet. Being able to walk around a mountain range which covers almost 300,000km2 is an idyllic scenario, especially if you are trying to get away from a busy life.
When people think of the Alps, the first thing that tends to come to mind is snow and skiing. Although there are ski resorts open throughout the summer, they are limited to very small areas, making hiking the activity of choice for the locals and visitors alike.
The Alps
Stretching 1,200km from Slovenia in the east, to France in the west, the Alps are the most extensive mountain range system lying entirely within Europe. The famous Mont Blanc is the highest peak in the range, standing at a massive 4,810m high.
Travelling to the Alps is easy – you just need to decide which country you want to visit. There are plenty of choices – France, Monaco, Italy, Switzerland, Liechtenstein, Germany, Austria and Slovenia. Popular airports to fly in to are: Munich, Zurich, Geneva, Venice and Milan Malpensa.
Hut to hut walking
One of the top reasons for choosing the Alps for your hiking holiday is the availability of accommodation. The Alps is littered with 'huts' – ranging from 6-bed dormitories to five star hotels. At a very basic level, they provide shelter, a bed and meals meaning you don't have to carry bulky tents and sleeping bags all over the mountain. Simply hike away with just a day bag carrying the essentials.
Before leaving the UK, you can intricately plot your way around the Alps, perhaps following the best internet walking trails. Or, with the option of just walking from hut to hut, make the route up each day. Just phone ahead at breakfast and make a reservation, and off you go.
The equipment
Obviously, you'll need some gear before heading into the Alps so may want to visit this excellent website gohikealps.com. They have produced a very comprehensive Packing Guide which should be your first port of call. There's also a tonne of other information on the site covering everything you need to know.
Inntravel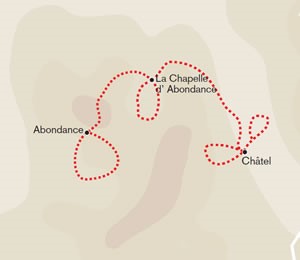 PayingTooMuch.com has recently started selling holidays! For the best walking packages, we've teamed up with Inntravel who offer some excellent choices.
As an example, Inntravel offer a walking holiday entitled 'The Chablais Alps'. Set just south of Lake Geneva, you'll follow planned walks through forests, vineyards, flower-filled meadows and alpine towns all the while enjoying outstanding views of Mont Blanc and Lake Geneva.
Prices for a six day walking holiday start from £868 per person, rising to £930 in the July-August peak season. This includes six nights spread across three different hotels, six breakfasts, three picnic lunches and six evening meals, sampling some of the best local cuisine. Also included are things like walking route recommendations and luggage transportation between hotels.
Flights aren't included, but if you book them through either Inntravel or PayingTooMuch.com Holidays at the same time as your holiday, the whole holiday remains ATOL protected. We are also able to help you with return transfers from Geneva airport.
How to book?
Booking is simple. Just find the holiday you want on the Inntravel website and then give PayingTooMuch.com Holidays a call on 01243 213 213 and we'll sort the rest for you.
We can book you on any Inntravel holiday – whether that's cycling, walking or skiing.
Travel insurance
Before you travel, Inntravel will request details of your travel insurance, which is a condition of booking their holiday. When buying travel insurance, make sure you take appropriate cover. Ensure that your travel insurance will cover you specifically for walking holidays in the Alps. Some insurers may apply a limit to the height at which you can be covered for hiking so make sure you have the correct cover in place.
Rather than trawling through all the different companies' terms and conditions, just give our travel insurance team a call on 01243 784 000 - they've got the experience to point you towards the right policy.
We offer fantastic travel insurance prices for people with pre-existing medical conditions, as well as unrivalled customer service, so give us a call today.