Protect your home and garden contents
Locking your home's doors and windows before you go away goes without saying. But do you always remember to lock the shed or put the lawnmower back in the garage after use?
The average garden in the UK is worth up to £5,000 – often containing garden furniture, expensive ornaments, patio heaters and lawnmowers. This makes the garden an ideal target for burglars who are looking for a quick grab and will often check to see if garages and garden sheds are unlocked, which may have expensive power tools inside. You may find that you are only covered for contents in your shed if you have a lock on the door.
Stolen garden goods
According to estimates, up to £4?billion of garden furniture, plants, paving stones and wildlife are stolen each year in the UK.
Deterring thieves
The best way to ensure you don't become a victim of crime is to take necessary precautions to deter the criminals.
Padlock your gates - It makes it very difficult for the thief to take anything if they can't simply walk out of the side gate. Make sure there are at least two locks on your gate.
Install motion active spotlights - Scare away any would be thieves by installing spotlights
Higher fences - If you have a property by a main road that is overlooked, stop people peering into your garden (Be sure to check building regulations first)
Plant shrubs which are natural defenders - Holly and blackthorn are aesthetic to look and can be a good deterrent.
Chain up your bin - Thieves needing an extra boost over the fence can use bins, or garden tables to clear the fence or hedge.
Lock up your garage - Your garage will quite often will contain the valuable items in the garden such as power tools and bikes.
Neighbourhood watch - Get a trusted neighbour to keep an eye on your property should you be away.
Mark your items - Attach difficult to remove labels to your items.
What not to do
Leave anything of value in your front garden - If something of value is in the front garden, it may give the impression that there are valuable items in the back garden.
Plant tall trees - Don't give the thieves a place to hide.
Go uninsured - Get adequate cover for your property.
Leave toys out on the lawn - Children's toys and bikes are light and easy to take.  
Getting correct cover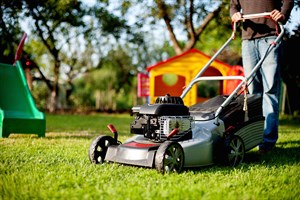 Having the correct home insurance cover is important as some items would be covered under contents. There may be some restrictions for garden contents such as lawnmowers and garden furniture and some policies may only cover you up to a certain ammount. It is worth making a rough estimation of the value of your garden contents to make sure you have the right level of cover. Upgrading to a new expensive lawnmower might mean that you should make a change to the policy when it is due for renewal.
There may be some exclusions, like with any policy, as some insurers may not pay out if some items or trees and plants have been damaged by naturally occurring events such as flooding, or harsh weather conditions.
Finding the best home insurance policy needn't be difficult. By visiting PayingTooMuch.com, you can find the cover which is best suited for you and your home. If you have any questions you can contact our home insurance specialists on 01243 219333.