On July 10th 2017, PayingTooMuch.com has attracted over 15,000 independent reviews from its clients with over 98% being four and five-star reviews.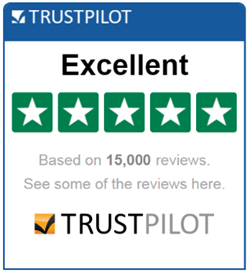 PayingTooMuch.com, an insurance broker based in Chichester, West Sussex, provides consumers with a comparison service that compares product benefits as well as prices.  The products currently include life, travel, home, pet, car, motorbike and van insurance and as of June 2017, bespoke holidays. Since 2011, the company has grown from four members of staff to over 70 and provides an open, honest, ethical and genuine service to its customers.
PayingTooMuch.com Managing Director Michael Ward said: "I am delighted to see that we have such a fantastic TRUSTPILOT score. With over 15,000 reviews, 98% being four and five-star reviews displays that we have been of great value to our customers over the last six years. We most certainly couldn't have achieved this without their support so I would like to say a huge thanks to all our loyal customers.
Here's what the first and 15,000th customer had to say about the company:
"After having been overcharged for Travel Insurance earlier this year, and going for a long weekend in France quite soon, I thought I would look at what else was offered on the Web. Found Payingtoomuch, and saw what and who they had. Checked the terms offered, and decided to try one, and got a very good rate, at competitive price. So, I have cover for myself and my wife, if we require it, hopefully not!" (Mr. Mallinson 2011)
"I would recommend this Company. Site easy to use no problems" (SMT 2017)
For further information about PayingTooMuch.com please contact Christopher Claxton, Media and Partnership Manager. email [email protected] or call 01243 219 132.
**********
About PayingTooMuch.com
PayingTooMuch.com is a consumer website run by Eclipse Financial Systems Limited and is a trading style of Eclipse Financial Management Limited for Financial Services Products that are regulated by the Financial Conduct Authority. FCA registration number 535496.
PayingTooMuch.com offers products from a limited number of insurers and do not charge a fee for this service. You will not receive advice or a recommendation from them. They may ask some questions to narrow down the selection of products that they will provide details on. You will then need to make your own choice about how to proceed.
Registered in England number 07412856. Registered Office, York House, 210 City Fields Way, Tangmere, Chichester, West Sussex, PO20 2FR.