The gulf state of Qatar has become increasingly popular with European tourists. Seen as a more reserved and down to earth alternative to the glitz and glamor of nearby Dubai, many European tourists choose Doha as their winter-sun getaway.
Doha is also home for Qatar airways, transiting people from Europe to the far east and Australia.
Diplomatic Row
On Monday 5th June, Saudi Arabia, the UAE, Egypt and Bahrain announced that they were severing diplomatic ties with Qatar, as well as cutting land, sea and air links with the country. They say it's all about Qatar supporting terrorism. In reality there are probably legacy issues at play. The internet is your friend if you want to invoke the political historian inside you, but we're just going to look at the travel implications.
Flights from the UK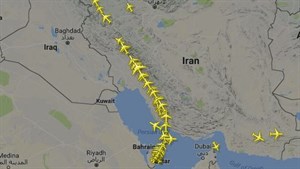 On the whole, flights to and from the UK are unaffected, unless flying with Emirates. The gulf allies have closed their airspace to Qatar Airways, so low-scale disruption is possible for the next few days as flights are re-routed. Expect flight times to increase slightly as aircraft have to take longer routes over Iran. (image from FlightRadar24)
The main disruption will come from passengers travelling from Doha to the UAE states (Dubai, Abu Dhabi etc.), Egypt, Saudi Arabia and Bahrain. All flights to and from Doha have been suspended or cancelled by Etihad Airways, Emirates, FlyDubai and Air Arabia, as well as Qatar Airways stopping all services to the affected countries.
Etihad Airways and Emirates have cancelled all flights, even from the UK, to Qatar. If you have booked flights with them, see below.
What to do?
If your travel has been affected by cancelled flights, your first stop needs to be the airline. Find out how they plan to get you from A to B. Depending on how soon you are meant to travel, the results may be different. In the short-term, expect significant disruption and hassle as everyone works out contingency plans.
Affected airlines have said they will offer refunds on unused tickets, or offer to re-book to alternate destinations.
However, any accommodation booked independently from the airline is your responsibility.
Travel insurance
Travel insurance isn't going to cover the cost of an entire trip cancelation. If you've booked a flight which is now cancelled, the insurance company will be expecting your airline to sort arrangements for getting you from A to B.
If your airline simply give you're a refund, your travel insurance company will expect you to re-book with another airline, so won't provide any cover.
If you have been affected by events in Qatar you need to contact your airline or travel agency. 
The situation in Qatar is new and evolving daily. Keep an eye on the news and the Home Office travel advice page, found here.