Saga Holidays is a long-standing travel brand for the over 50s and is well known for its escorted tours and holidays further afield. Perhaps not so well known is the fact that Saga have two cruise ships; Saga Sapphire and Saga Pearl II and will soon add an all balcony third ship called the Spirit of Discovery to their fleet (due to be launched in the summer of 2019).
Saga Sapphire and Saga Pearl II have a capacity of 720 and 449 guests respectively, operating mainly from the port of Dover in Kent though there are cruises from other southern ports too. In a world where the bigger and larger ships are ever more dominant, these ships offer the perfect atmosphere and home from home cruise experience to a range of European & worldwide ports.
Our team of PayingTooMuch.com cruise travel experts were invited by Saga to check out their ship the Saga Sapphire and wanted to let our customers know what is on offer.
Smaller can be better
When travelling with a smaller cruise line, you often get a better, more personal experience. Smaller ships are easier to explore, there is less distance to walk and you can get your bearings faster.
Guests can expect a more intimate atmosphere, one-to-one service and personal attention. The small size of the ships may also mean that the itineraries will include ports that the larger cruise lines cannot reach.
Onboard ships of this size, one of the true attractions is the wonderful 'club like' atmosphere that exists. New cruisers, seasoned travellers and travel experts can mingle and share their stories and travel experiences as they visit new ports by the day. 
Permission to come aboard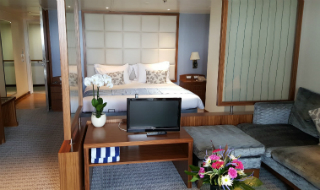 Accommodation ranges from inside cabins to luxurious suites and Saga are known for offering spacious and tasteful cabins. Single travellers are also very well taken care of and the cruise is an ideal environment to meet other solo travellers within a safe and comfortable environment.
The Saga cruise experience is deliberately very British. Onboard currency is the British pound and many of the ships officers are British. There is tea and coffee making facilities in every cabin and traditional British afternoon tea can be frequently enjoyed onboard.
There is plenty of entertainment on the ship which always attract a massive following and helps to enhance the guest experience at sea.
What will you do on your cruise?
Saga Sapphire offers an indoor swimming pool and spa which is a strong draw. Relax outside on the open deck reading your favourite novel, socialise in your favourite bar, enjoy the presentation of your onboard speaker, join in and be active, or be as passive as you wish. After all it is your holiday to do as much or as little as you like.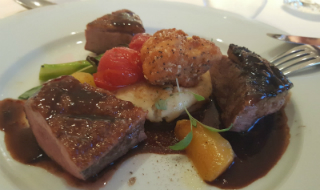 By night enjoy fine dining in the restaurant, followed by live dancing, cabarets and musical entertainment specifically for the British market. You can enjoy well known songs and sing along to your favourites whilst enjoying a variety of reasonably priced alcoholic and soft drinks. It is also the perfect setting to meet seasoned travellers and others in the same boat, with whom you will enjoy a wonderful holiday.
Top Tip: To get the most from your cruise, remember to book excursions as this is the best way to discover country and culture. No need to queue in large groups as you disembark from your smaller ship, simply check in at the agreed time at the stated venue. This information will be stated in your daily programme posted into the cabin the night before the tour.
For newcomers Saga Cruises make the perfect choice. 
Saga cruises include Chauffeur driven transport from your home to port (within a 250-mile radius) so there is no need to worry about how to reach the port or the costs entailed.  Your holiday starts the moment that you arrive at the port and experience the Saga service.
Advance registrations are currently being taken for the MV Spirit of Discovery, on sale from September. Please enquire for itinerary details and for any assistance you require with your cruise bookings.
To enquire or obtain a quote for a Saga cruise, contact Roger and his team of cruise specialists on 01243 213 213