By Roger Mallock – PayingTooMuch.com's head of cruises. Roger has first-hand experience of cruising having worked in the industry for many years, both on-board cruise ships and in travel agencies. He's our 'Mr Cruise', so if there is anything you need to know, just give him a call.
So, you've made the decision to take a cruise – congratulations. You will be able to see so many beautiful destinations in one holiday and bring back memories to last a lifetime. Here are several questions you may wish to consider before booking.
There are some fifty cruise brands from which to choose. So what matters most to you?  You could be a guest on a ship with just a few hundred guests, or on a ship with over 5,000, the experience will of course be very different.
Consider the size of ship and cabin choice.  Smaller ships are more intimate and easy to get around. Are you looking for an Ocean Cruise or River Cruise?
There are British, USA and European ships available. Do you want to spend your holiday with guests from your own country, or do you like the idea of a wider nationality mix?
Will you sail from the UK (there are over 10 UK ports available), or would you rather fly to the sun and start your cruise overseas?
What time of year are you looking to travel?  Generally, the European cruise season starts from May and ends in October. The best time to travel to Asia, South America, The Caribbean, The Middle East and South Africa is during the British winter - typically during the months of November through to April.
Family Cruises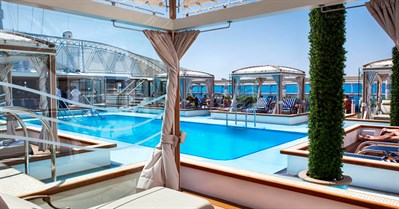 There are cruise holidays which cater specifically for the family market. These include P&O Cruises, Princess Cruises, Royal Caribbean, Norwegian Cruise Lines and MSC Cruises. Usually these ships carry between 2000-5000 guests and are very well equipped to keep all the family entertained. Look out for supervised children's clubs to keep the kids busy whilst you relax. 
At night, the ships come alive with dazzling shows and performances to suit every taste. Larger ships will offer inside cabins (no natural daylight), ocean view cabins and various ranges of balcony or suite cabin accommodation. They will usually have a wide selection of restaurants and dining options available. If you are looking for a relaxing resort at sea, these cruise companies are for you! Either sail directly from British shores, or take a fly cruise.
Couple Cruising
Celebrity Cruises, Cunard Line, Holland America and Azamara are excellent choices for couples looking for boutique or a country house style atmosphere. Here you will find wonderful cuisine options and a strong emphasis on relaxing spa and life enrichment experiences.  These mid-sized ships carry between sub-1000 and 2800 guests.
Mature Guests
Mature guests will be well suited to Saga Cruises, Fred. Olsen Cruise Lines, Cruise and Maritime or Voyages to Antiquity.  These midsize ships, carrying up to 1500 guests offer authentic destinations from a wide selection of UK ports.
Consider the real value of cruising where sumptuous accommodation, fine dining experiences, day and night entertainment, daily planned programmes and the opportunity to meet interesting guests whilst travelling from country to country is all included in the price. If cruising from the UK, there are no flight delays to worry about and no limit to the amount of luggage you can take either (as long as your ship returns to the UK that is!) The varied travel excursions will add excitement and interesting experiences to your holiday.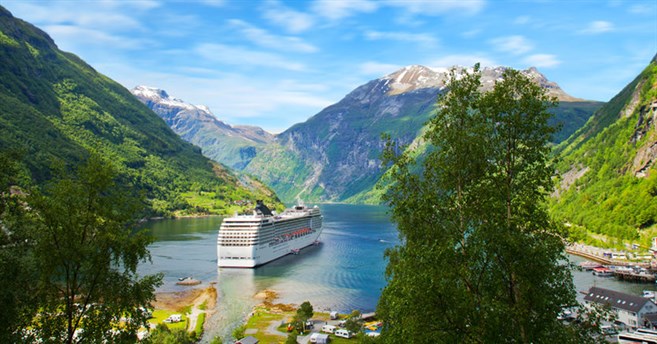 Cruising Essentials
Upon boarding all guests will be given a cruise card. It is important to carry this with you always. Every time you leave and return to the ship this card will be swiped. The cruise card is effectively your on-board identity. When you purchase drinks, visit the spa, book an excursion or purchase items from the shops just present this card and sign the purchase against your name and cabin number. 
First timers can often join the newcomers meeting or tour of the ship on the first morning when you will learn how to navigate your way around (which can take some time on the larger ships) and you will also learn more about the cruise experience.
Top Tip: It is best to book a mid-ship cabin as this is the area with least ship movement on a cruise. These cabins will tend to be the first ones to be sold.
Before booking your first cruise, you need to consider the following:
How long are you going for and to which part of the world? Newcomers will find cruises leaving from the UK very convenient. You can cruise to the Mediterranean, Scandinavia, the Baltic and the Atlantic islands. Durations can vary from overnight taster experiences, to 2, 5, 7, 14 days and longer. You can even cruise the world!
Fly cruises are the way to get out of Europe quickly. You can also extend your holiday, perhaps adding a few nights before or after your cruise to get the best of both worlds.
With so many different cruise experiences there is certainly something for everyone in the cruise market today. With so many options, it's impossible to cover all bases in a blog post. For more information contact our holiday team on 01243 213213 and we will be delighted to find you your perfect cruise holiday.