My name is Danny and I work in the life team here at PayingTooMuch.com. I have a huge passion for travel, experiencing different cultures and of course sunshine!

At the beginning of this year, myself and a close friend decided to pick something off our bucket lists and just go for it. We both decided Thailand would be the perfect place to explore, relax and experience a very different and unique culture, before we grow up and serious life gets in the way.
First 3 nights – Phuket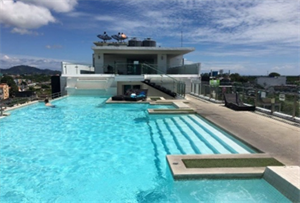 We started our journey in the busy City of Phuket. We stayed in a beautiful apartment complex, 'Wide suites', on the outside of the city with a rooftop swimming pool. There were views of the city and you could even glimpse the famous 'Big Buddha' from up there too.
Whilst in Phuket we took in most of the historic sights including the Wat Chalong Temples and The big Buddha. This was made easy by a tour guide who drove us around in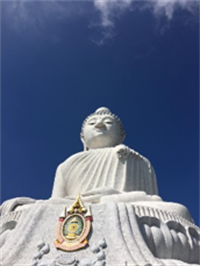 his aircon taxi for a very reasonable price of around £10. We chose this option as the moped taxis were not for us and the Baht buses were hard to flag down. My only advice for these types of attractions is to cover up as they ask you to be respectful by covering your arms and legs, so no shorts or vests.
The next leg -  Krabi - 5 nights
From Phuket we moved onto the beautiful Ao Nang part of Krabi, surrounded by breathtaking scenery and beaches - easily accesable by longboats and ferries.
You can get a ferry here from Phuket, however this can be a very lengthy journey, depending on what part you are going to, so again we used our trusty Phuket taxi driver.
In Krabi we took a dip in the breathtaking Emerald Pools and Hot Spring. Entry fees are very resonable at about around £4 per person.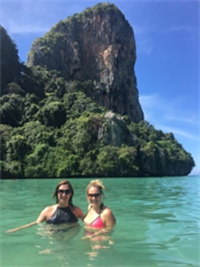 One of my favourite locations was Railey beach – only a stones throw away on a longboat from Ao Nang. This island has no cars, roads or pavements and all the restaurants and walkways are set on sand.
You get the true feeling of being in paradise here. It is a lovely day trip if you are up for swimming, snorkelling, sunbathing, water sports and delicous food – on one day we were also joined by some very shy monkeys (Dusky Langurs), very unlike the naughty macaques I would shortly encounter on Monkey Beach – Phi Phi.
The Final Stop – Phi Phi Island – 3 nights
On the last leg of our journey we visited the picturesque Phi Phi Island, which was by far my favourite destination and hotel. We stayed in the large resort 'Princess Phi Phi' that included two infinity pools, a swim up cocktail bar and the largest breakfast I have ever seen! This was all just a 30 second walk from the beach.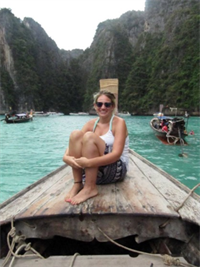 I will say, if you are looking for a quiet holiday then this island may not be for you as it can get very noisy! Whilst we were there, there was a full-moon party on the beach, regular pool parties and karaoke going on until the early hours. This can all get very noisy if you are after a relaxing time and early nights. But who is? 
From Phi Phi Island, we took a longboat tour which included lunch, snorkelling gear, and visits to famous sites such as Maya beach (where the movie 'The Beach' was filmed) and Monkey Beach, all for the price of around £10.
Although Monkey Beach is a once in a life time experience, please be careful! A lot of the monkeys are quite playful, jumping on you and stealing your sunglasses. However, some of the bigger ones can turn vicious and bite if they feel threatened…yes this did happen to me as one cheeky monkey tried to steal my bag. Luckily it was just a nip and no harm done.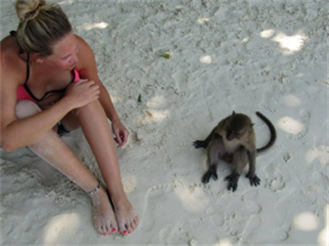 Overall, I thoroughly enjoyed my travels around Thailand. I found the history and lifestyle of the Buddhist monks truly inspirational. The scenery and food went beyond my expectations and travelling around was very easy. If you are on a tight budget, once you convert your pounds to Thai Baht, the cost of food and accommodation is quite low, the main cost of your trip being the flight…  so get booking :)