­­When going through a home insurance quote, you'll be asked if the locks on your doors are approved. Why? Very simply because some locks are easier to break than others. If they are, you're likely to see a discount on your home insurance prices.
So, since most of us aren't a locksmith, we've put together a little guide to help you identify the common locks. 
British Standard Locks

When getting a home insurance quote, you'll be asked: "Is the property fitted with approved locks on the final exit doors?"
These locks are insurance approved to meet the BS3621 standard. They are most commonly identified by the BSI 'kitemark' show to the right.
Let's have a look at the most common types of lock conforming to the BS3621 standard.
Five-lever Mortice Deadlock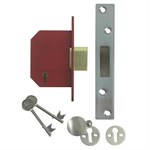 This is a very common lock – despite the rather catchy name. The word mortice is defined as a hole cut into something (in this case the door frame) for a projection, otherwise known as a tenon (the lock) to fit into. So there's one for the next pub quiz!
Very common, you'll be able to identify this lock as being used by a traditional looking long key. The more levers the lock has, the more secure it is.
When choosing a lock, make sure it conforms to the BS3621 standard – some do, some don't. All packaging should clearly state whether it does or not. 
Key-operated multi-point locking system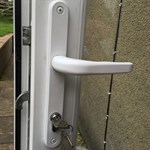 These are common on uPVC doors, such as new style front and patio doors. The door has numerous locks inside which bolt into the door frame in multiple places, normally top, middle and bottom. To use them, you will need push the handle up before rotating a key.
To see how they work, try lifting the handle with the door open and watch the 'hooks' come out of the door.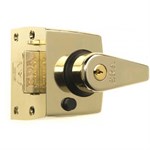 Rim automatic deadlatch
These are the 'I've locked myself out of the house' locks. They are mounted to the outside of the door frame, as opposed to inside it, making them less secure than the mortice lock. 
As always, make sure yours conforms to BS3621.
Window Locks
During the application you'll also be asked whether your windows have locks. Most new windows will come fitted with locks, but it is possible to fit locks to old windows. A trip to Homebase or B&Q will sort you out with window locks for about £4 each. Not only will this help secure your home, but could also reduce your home insurance premiums.
Home Insurance
No matter how secure your house – you could even have a moat and drawbridge - if you leave any windows or doors open or unlocked (or your drawbridge down) then it's unlikely the insurance company will settle a claim. Check your policy wording for exact details.
If you have any questions about home security and how it affects your insurance policy give our friendly team a call on 01243 219333.