If, like me, you regularly travel hand-luggage only, you'll be familiar with the liquid rules at the airport. However, it appears that you don't just have to think about the size of liquids, but also the shape.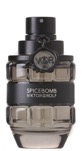 Travelling through Southampton Airport yesterday (14th March 2017) I had my aftershave, Viktor & Rolf – Spicebomb, taken away from me by security. Apparently, new CAA rules prevent the carriage of certain bottles of perfume and aftershave which may look like weapons. My aftershave was in the shape of a grenade.
This new security measure is probably the result of a security scare at Edinbugh Airport a few years ago.
So next time you go to the airport, think about the shape of your fragrance – it's very annoying to lose such an expensive possession just because of the shape.