In late December 2016 The Driver & Vehicle Standards Agency (DVSA) announced potential changes to the learner driver syllabus to allow learner drivers onto motorways before they take their test. The obvious requirement being they are accompanied by an approved driving instructor in a car fitted with dual controls. 
Motorway driving can be very daunting for new drivers and the fact this isn't currently covered in driving lessons is questionable. Allowing drivers to practise in lessons will give them training on how to join and leave a motorway, as well as guidance on correct lane control.
Motorway driving – do you know the rules?
If you don't already, you should follow the Highway Code Facebook Page. They periodically post thought provoking reminders on correct highway code rules.
Always a hot issue is lane discipline on a motorway. Many people prefer the ease and perceived safety of just sticking to the middle lane. However, rule 264 of the Highway Code states:
"You should always drive in the left-hand lane when the road ahead is clear. If you are overtaking a number of slower-moving vehicles, you should return to the left-hand lane as soon as you are safely past."
So, next time you are driving on a quiet motorway, especially at night, consider whether you can move into the left-hand lane.
For more rules and information regarding motorway driving, the full Highway Code can be found on the Gov.UK website. The motorway section is found here.
Changing Rules For Learner Motorcyclists
The DVSA has also launched a consultation on changes to motorcycle training. 
To ride a moped at age 16, or a motorcycle up to 125cc aged 17 or over, you need to complete a Compulsory Basic Training (CBT) course which will allow you to ride with L-plates. This gives the rider 2 years to practise two-wheel riding before moving on to take the full motorbike test.
The CBT is not a pass or fail test, and does not have to be completed by everyone. Find more info here.
The new changes proposed at consultation are as follows: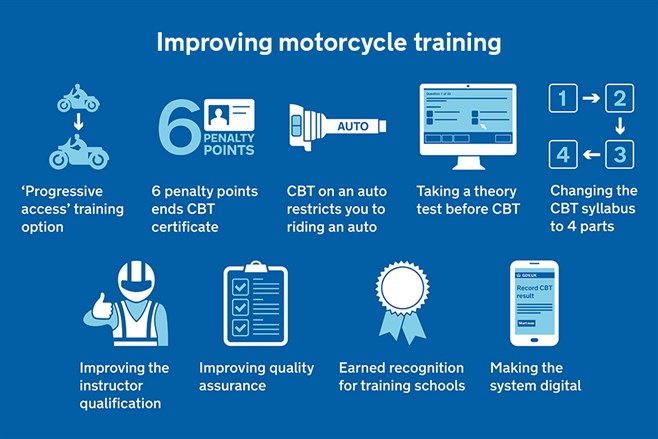 We asked James, a PayingTooMuch.com customer who has recently passed his full motorcycle test, for his thoughts on the new changes. 
"The point of the CBT is that you are allowed to learn to ride (on your own) and as with learning to drive a car, currently there is no requirement to have passed your theory test before learning. Under the new rules, the theory test would need to be completed before being allowed to start riding. Would the same therefore apply to learner drivers as well as riders? I could see there being quite some pushback on this one although personally I think it's a good idea.
The automatic restriction makes complete sense. To be able to pass your CBT on a 'twist and go' scooter and then be able to ride a manual motorbike is madness. This would bring it in line with cars where if you pass in an auto you can only drive an auto."
The DVSA wants your views on the proposed changes. You can have your say on the GOV.UK website here. You have until 17th Feb 2017.
Insurance
Learning to drive is almost a passage to adulthood. Driving lessons are not cheap, and often a student's progression is advanced by practising in a family car. Remember that any learner driver will need to be insured on the vehicle, and there are rules on who they can practise with. For more information on practising in your own car, see our blog post here. (link and blog post to come)
To speak to an expert on any matters surrounding car insurance, give our friendly team a call on 01243 219300.