The Telegraph recently ran an article warning of excesses on travel insurance issued by airlines. They uncovered a policy that included up to £100 for lost or stolen cash as part of the cover but, in order to claim, the customer would have to pay a £200 excess. So they would have to pay £200 to claim £100, meaning that in reality the cash isn't covered at all.
This illustrates just how important it is to understand how much your excess is, and how it works, before taking out a travel insurance policy.  The excess is the amount you will have to pay towards a claim. So, if you put in a claim for £300 and the policy excess is £100, the insurer will pay out £200. Many of the cheaper policies on the market have high excesses, which means you could be caught out in the event of a claim.
Comparing travel insurance excesses
When comparing travel insurance excesses, it can get quite confusing. Most policies have a single excess, but there are some that charge an excess for different elements of the claim. For example, if you are unfortunate enough to be mugged while on holiday, you could be charged an excess for medical costs, plus an excess for loss of personal effects. This can end up costing you more in the long run.
The easiest way to compare policies is to use a quote comparison tool. Here is an example of what a search on PayingTooMuch.com would look like. You can see high level details of costs, cover and excesses at a glance.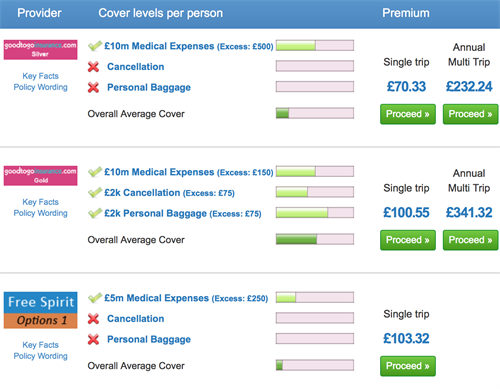 Excess waiver
Some insurance providers will offer you an excess waiver. This will add extra cost to your premium (usually in the form of an upfront lump sum payment), but can end up saving you a lot of money in the event of a claim. An excess waiver is usually a good idea if you are a regular traveller.
Michael Ward, Managing Director of PayingTooMuch.com said "It's very tempting to choose a policy based on the headline rate. We always recommend that you read between the lines before choosing which provider to go with, especially when it comes to travel insurance. A few more pounds now can save you hundreds of pounds in the long run, not to mention giving you greater peace of mind. If you need help understanding your options our consultants are always on hand."