Whether you have children or are just a child at heart, you'll love the Disney experience. Everyone who visits a Disney Park can't help but be caught up in the sheer joy of the Magic Kingdom.

With five Disney Parks scattered across the globe, deciding which park to visit can be a tough decision. While geography might be your deciding factor, if you truly want to have the best Disney experience you need to measure out the unique pros and cons of each of the parks before making your decision.
The Six Disney Theme Parks
Currently there are six Disney theme parks around the world – two in the USA, one in France and three in Asia. They are:
Disneyland Resort – Anaheim, CA
Walt Disney World Resort – Orlando, FL
Tokyo Disney Resort – Tokyo, Japan
Disneyland Paris – Paris, France
Hong Kong Disneyland Resort – Hong Kong, China
Shanghai Disney Resort – Shanghai, China
All of the above share many things in common – in fact, they are more similar than different in a lot of ways. For instance, they are all home to five of the same "lands"  within their borders – Adventureland (known as Adventure Isle in Shanghai), Frontierland (known as Grizzly Gulch in Hong Kong and Western Land in Tokyo), Fantasyland, Main Street, USA (known as World Bazaar in Tokyo) and Tomorrowland (known as Discovery Land in Paris).

This might help to set your mind at ease, because no matter which park you visit you will still be able to visit the main attractions, see costumed characters and watch stunning parades and fireworks.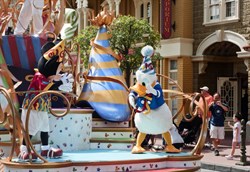 Does size matter? If so, Walt Disney World is best for you
If the sheer size of an amusement park matters to you above all else, you will certainly be happiest with Disneyworld. Founded in Orlando in 1971 as a rival to Anaheim's Disneyland, the Disneyworld resort area takes up a staggering 40 square miles – that is larger than San Francisco! Boasting four separate theme parks (?Magic Kingdom, ?Epcot, ?Disney's Hollywood Studios and Disney's Animal Kingdom), a water park and over 25 different Disney branded hotels. 
European Flair at Disneyland Paris 
Disneyland Paris opened in 1992, and after a few shaky years at the beginning it has become the most visited attraction in all of France! Many of the rides and lands are the same as the parks above, but with a decidedly French twist. Parisian Disney also boasts Walt Disney Studios Park, which is meant to represent all of the different aspects of film production that one would find at a Hollywood film studio.
After original charm? Disneyland is your best bet.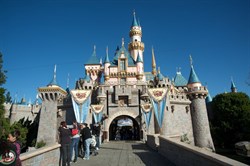 Anaheim's Disneyland is the oldest of the parks, opened in 1955 and designed by the man himself, Walt Disney. While many of the original attractions have been updated or replaced altogether, it is still possible to catch a glimpse of the Disneyland of the 1950s at Mr. Toad's Wild Ride, Dumbo the Flying Elephant, Snow White's Scary Adventures and the Casey Jr. Circus Train.
Disneyland also benefits from its proximity to the adjacent "California Adventure Park," home to phenomenal rollercoasters, an art deco hotel themed "Tower of Terror" and replicas of San Francisco's Fisherman's Wharf and Santa Monica Pier. 
Disney with an Asian feel - Hong Kong Disneyland
Hong Kong Disneyland is a great place to visit if you want to see how the rest of the world views Mickey, Minnie and the entire Disney gang. Look out for a Chinese cultural influence in the parades, architecture and the characters' costumes.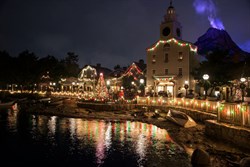 A strange twist on the Magic Kingdom – Tokyo Disney
Most Disney lovers will tell you that Japan's Disney Park is a little bit different from the rest, with a decidedly Japanese twist and a few additions and changes meant to entice a local audience. If you are planning to visit Japan, it is certainly worth a stop at the Tokyo Disney Resort. 
Want to visit the newest Disney park on the planet? Head to Shanghai
If you want to get in on the newest Disney release, head to Shanghai this June.
Set to open on the 16th, Shanghai's Disney Resort will be the first in mainland China and is set to cater to a massive Chinese demographic as well as international tourists from around the globe.
No matter which Disney resort you choose, you are certain to have an amazing time – that is, of course, if you have protected yourself and your family with a comprehensive travel insurance policy. In order to get the best price on a policy that suits you, check PayingTooMuch.com, a price comparison website that allows you to compare coverage from different companies before you buy.
No matter which park you choose, remember - it's a small world, after all!