Actress Sheila Hancock, 82, has just been on Radio 4's Moneybox programme talking about how her car insurance has nearly trebled to £2,200 and why she's so unhappy about it.
Hancock told the show: "This year they have demanded £2,246 as opposed to last year which was £875.
"I knew in my heart of hearts that it was to do with age but of course they're not going to admit that."
So, is the car insurance industry guilty of ageism? Well, Hancock's insurer Admiral said the hefty increase in the actress's car insurance premium - the annual cost of cover - wasn't due to her age but an accident she'd been in that wasn't her fault.
How a non-fault accident can hike your car insurance costs
It seems Admiral's claims data shows that drivers involved in an accident which isn't their fault are more likely to be involved in a future accident which is their fault.
But new data from the insurance industry trade body the Association of British Insurers (ABI) suggests that drivers aged over 70 pay more for cover than middle-aged motorists because they are more likely to make more expensive claims.
The stats: Age of driver vs. average premium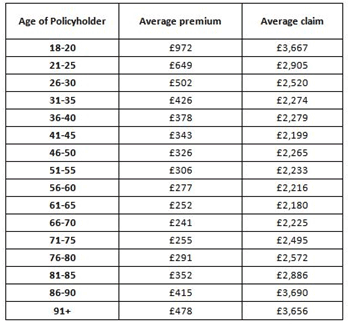 Source: Association of British Insurers (ABI)
Rob Cummings, manager for General Insurance at the ABI said: "This data shows the clear link between the age of a driver and the risk of making an expensive claim on a car insurance policy.
"Older and younger drivers will pay more for their car insurance than those in their middle age because they are more likely to have accidents and make expensive claims for personal injuries.
"Rising life expectancy is leading to an increase in the number of older drivers who naturally want competitively priced insurance, and the motor insurance market is meeting this demand. But the price of insurance is based on risk, including the higher average claims costs as drivers get older.
"In addition to a driver's age, insurers will consider many factors when setting the price of car insurance including claims history, the vehicle, postcode and driving record."
How older drivers can find the best car insurance deal
So what can older drivers do to cut the cost of car insurance? The answer is simple: Shop around.
Rob Cummings of the ABI says: "The motor insurance industry is competitive so it is important to remember to shop around when renewing a policy."
Make a note of when your insurance is up for renewal. Your renewal notice is typically sent out 21 - 30 days before your cover is due to expire – either by post or email – and shows the price your insurer is offering you for next year's cover.
Armed with this info you can use a price comparison site like PayingTooMuch.com to shop around and see if you can get a better deal. According to Moneybox, Sheila Hancock has now found cheaper insurance - perhaps you can too!