High premiums and hidden excesses – our research shows why Boots' Travel Insurance should be prescription only!
When Boots, the high-street chemist, launched their own brand Travel Insurance this week, we wanted to give it a test.
There are two key benefits we wanted to have a look at. These were: 
15% discount, exclusive to online customers.
Kids can travel at no extra cost.
In order to test the product, in terms of price and level of cover offered, we've run some quotes and compared them to PayingTooMuch.com.  The case study used is below:
1 week in Spain
Primary traveller – 85 years old

Type 2 Diabetes (controlled by metformin tablets and diet)
1 blood pressure tablet (no change in the last 12months)
1 preventative cholesterol tablet

Secondary traveller – 10 year old

No pre-existing medical conditions
The results of our test are below: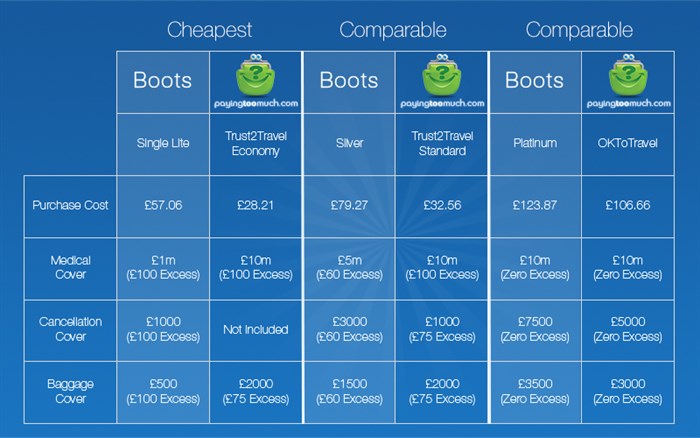 As you can see, especially at the lower end of cover, the Boots Travel Insurance is significantly more expensive for similar or less cover. But how did the two key aforementioned benefits fare?
15% discount, exclusive to online customers
Other than a mention of the discount on the home page, there was no other mention of a discount until the final payment page. When paying, the prices indicated were apparently inclusive of all tax and discounts. So to buy on the telephone, as many people like to do, will cost you another 15%! Why should you have to pay more for peace of mind and personal service?
Kids can travel at no extra cost
When choosing our test case we deliberately chose an adult and a child. In our scenario we are replicating a grandparent taking their grandchild on holiday. However, when choosing which type of insurance we wanted, we were faced with the following options: 
Individual
Couple - married / cohabiting.
Family - minimum of 3 travellers together
Single Parent Family – parent traveling with child/children 
Group - minimum of 4 travellers.
As we didn't fit into any of the other categories, we had to select the 'individual' option and select two travellers. The prices returned are the ones you can see in the results above.
We repeated the quotes without the child traveller and the quotes decreased by approximately 10%. So clearly, in our case, kids can't travel for free.
The hidden excess
When adding our medical conditions to the Boots test quote the following message was displayed:
"An additional excess of £300.00 in addition to any standard policy excess, applies per insured person, to any claim which arises directly as a result of one of your declared medical conditions or the treatment of it. Note: This additional medical excess is in respect of cancellation, curtailment and medical claims only."
It appears that the size of this additional excess changes between quotes depending on the information entered. At PayingTooMuch.com none of our policies will charge you extra if you claim as a result of your pre-existing medical conditions. What would be the point in that?
Basically, Boots are trying to have a laugh with you and join your holiday. High excesses, broken promises, high prices and low cover – they should have stuck to beauty products!
Have a look for yourself. We're sure you'll be back!