Winter sports cover does not come as standard on most standard travel insurance products. So before you head for the slopes this winter, make sure you're fully covered. For our '5 top tips on winter sports' see our recent blog post here.
Using the PayingTooMuch.com website you can ensure you have all the cover you need. Here's how:
1. Go to PayingTooMuch.com and select 'Travel insurance'
2. Fill in all your personal details, as required.
Stop: How many travellers?
If you buy individual policies for each traveller, although possibly cheaper, should someone have a serious accident and require repatriation only the policy holder will be repatriated. 
However, if you have one policy which covers everyone in the group, everyone will be repatriated with the injured person.
Stop: Do you have any medical conditions?
Remember, failure to disclose any medical conditions could result in any claim being rejected.
You need to declare to the insurers whether you or anyone travelling with you has EVER had treatment for:
Any heart or circulatory condition
A stroke or high blood pressure
Any breathing condition (including asthma)
Cancer
Diabetes
Anxiety or depression
Or if, within the last 24 months, you have:
Been treated for any serious / re-occurring condition
Been referred to a specialist or hospital consultant for tests, diagnosis or treatment
Been asked to take regular prescription medication.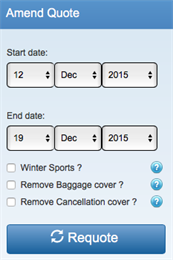 3. When you have completed all the questions, you'll be presented with your personalised quotes.
4. Click the 'Winter Sports?' button on the right-hand side of the page, which looks like this:
5. Click 'Requote.'
6. You will now have a new results page, with a reassuring Winter Sports tick underneath each price.
7. Click the proceed button to buy.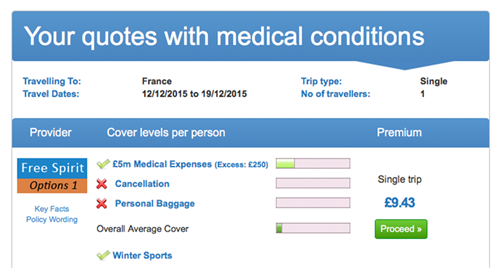 Should you have any questions or if you wish to speak to a member of our travel team, give us a call on 01243 784000.